There is no "right" way to be a digital nomad. There is only the right way for you to nomad, and that way can and will change as your needs and wants change. Some people start their nomad life with an organized group travel program and others start out solo. Whether you're just starting out or are considering switching up the way you travel, you may be trying to list out the benefits and challenges of both, but now you don't have to. This post will do it for you.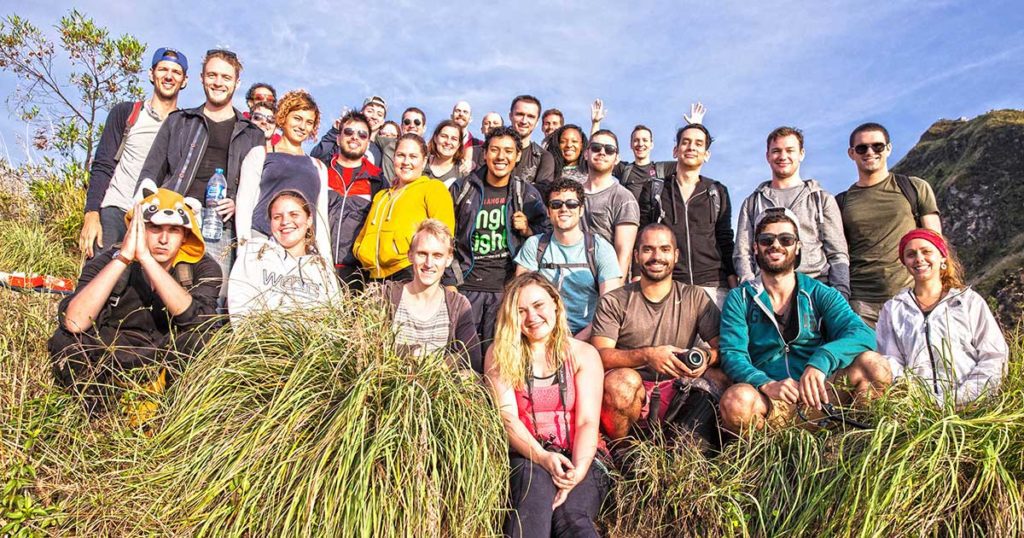 Benefits of Traveling With a Program
One of the best reasons to travel with a program like Hacker Paradise is all the time and energy and mental stress you'll save by not having to plan all your logistics yourself. It can be a huge time suck to research and pick a country and city that meets your work WiFi speed needs and has interesting things to see and do and eat when you're not working. Finding good housing options and figuring out all the little things like which local SIM card to get can be difficult when you're not already on the ground. Airbnb has yet to spread through large swathes of Asia and who wants to live in a hotel for a month? With a program, all of those details are taken care of for you.
A guaranteed social group, generally screened to be high-quality people, is probably the second most popular perk of traveling with a program. In certain places, it can be hard for even the most social extroverts to make friends because there simply aren't a lot of other nomads and the local culture may be very insular. Over 50% of Hacker Paradise alum said the greatest value they get from the program is in the people they meet and why they rejoin the program again and again. These connections have led to friendships, (romance?), and sometimes even new work opportunities.
When something goes wrong, it's nice to know that someone else is going to help you figure it out. Hacker Paradise was in Lima, Peru in March 2017 during the Peruvian mudslide situation. The program coordinators not only ensured participants had enough water for their basic needs when the water was shut off in most of Lima but also organized a fundraiser marathon trip to Santiago, Chile for Hacker Paradise participants who wanted to help the citizens of Peru who were suffering as a result of the natural disaster. Programs often facilitate the ability to give back to the host community in times of crisis.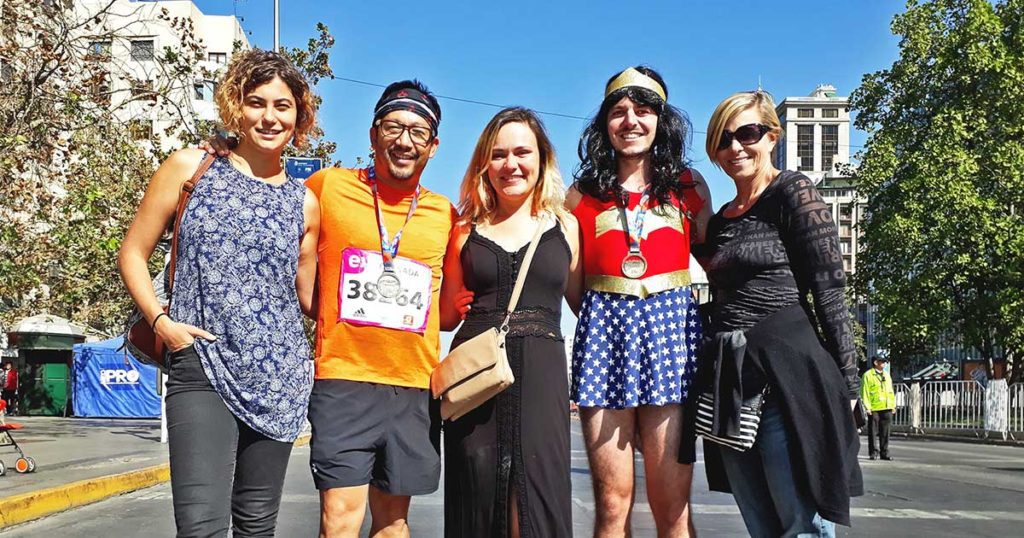 The handholding and done-for-you planning that is an inherent part of a group travel program is very helpful if you're starting out and don't know where to start or if want to go somewhere outside your comfort zone.
Challenges of Traveling With a Program
Of course, traveling with a program isn't perfect and depending on your situation, the cons may outweigh the pros. The biggest concern for many nomads is the cost of group travel. Having someone who takes care of everything for you always costs more and that holds true for group travel. Most programs come with a price tag of $2000+/month and don't include food or entertainment. If you're just starting out in your career, that can be a significant chunk of your monthly budget.
Another potential con of group travel is exactly what many people love about it: having someone else determine your logistics, including housing, dates, and location. If you are very particular about the type of housing you want to stay in or where in the world you want to be, handing over the decision-making ability can be a deal-breaker. If you hate the heat, you certainly wouldn't want to go to Mexico or Bali in the summer just to avoid planning your own logistics. You'd be miserable and either stuck somewhere you hate or out a nice chunk of change. It's a good idea to know what you love and hate so you don't accidentally end up in a housing/coworking/location situation that isn't one you'll enjoy.
The last thing to note about traveling with a group is that many require long commitments of several months to a year. Remote Year, for example, is a year-long program and if you leave early, you lose the $3000 deposit you gave them to secure your spot. Of course, if you go somewhere for just a week, having the time to both explore and work is unlikely. It's important to figure out how much time you'll have free to explore and from there, determine how long you'll need in that location to feel like you've experienced it. Most people find four to six weeks to be just the right amount of time and that's why Hacker Paradise usually stays in a location for four to six weeks.
Benefits of Solo Travel
Now that you're wondering whether group travel really is for you, let me tell you about the benefits of solo travel, which can be summed up in two words: Total. Freedom. You decide where you're going and when. You determine where you're living and what you're spending on that housing. You pick the coworking space or if you'd rather just work from bed every day, without the guilt of not going to a coworking space you've paid for or feeling like you're being antisocial. You befriend the people you find most interesting and never have to spend time with people you don't like. And once you decide you're done somewhere, you move on, completely on your own schedule.
It's either a huge list of positives or just one, depending on how important the ability to make all your own decisions is to you.

Challenges of Solo Travel
At this point, you're probably not going to be surprised to hear that the cons of solo travel are very similar to the pros of both solo and group travel.  While solo travel gives you complete freedom to make every decision, it also means you're wholly responsible for making every decision. This means time to research your options, including details like potential housing, climate, political stability, economy, food options, internet speeds, local transportation options, flights, etc.  Doing all of that takes a lot of time and energy and at the end of all your research, you still have to make a decision. Are you optimizing for time zones or temperature or cultural events or the likelihood people will visit you? If you're someone who is planning to explore several new places each year, you should start paying attention to how long it takes you to do all this research and make these decisions.  If you're spending all your spare time in one place figuring out the next, are you really making the most of your travels?
Another complaint many people have about solo travel is how much harder it is to make friends, especially if you don't speak the local language or know someone local who can introduce you to others. When I was in Buenos Aires alone, it took me nearly three weeks make friends, despite the fact I speak Spanish. When Hacker Paradise showed up the following month, I suddenly had a huge group of very friendly people who were making dinner reservations and coordinating trips in the Slack group that I could join at will. It was like night and day to go from struggling to find someone to hang out with occasionally to having more happening than I could keep track of.
Why Travel With Hacker Paradise
While solo travel can be great, the community aspect of group travel — especially groups like Hacker Paradise which very carefully vet their participants — is why most people love them.  And it's not just the participants who are known for being great. It was one of Hacker Paradise's fearless trip leaders you saw earlier fundraising for Peruvian mudslide victims as Wonder Woman. While the community alone is reason enough to choose Hacker Paradise, it is far from the only benefit.
Having professional planners who truly understand what a nomad needs in charge of coordinating everything from your housing to your coworking saves you a massive amount of time researching options and so much decision fatigue. Rather than choose between cell phone plans, you get to spend your time and energy deciding which of the many amazing local restaurants to check out next because you can trust that everything Hacker Paradise has coordinated for your trip is going to be the best possible option. You can join for as little as two weeks to check out how you like traveling with a group or go big and sign up for a full year. There are always at least two Hacker Paradise trips running simultaneously so you can decide to jump from the trip in Japan to the one in Mexico because you really want tacos or because you miss Spencer and Dale's shenanigans or both.
Whether you're an extrovert, introvert or just too busy with work and want to be surrounded by awesome people without a lot of effort, traveling with a Hacker Paradise will give you a community of interesting, adventurous people. You'll end up with good friends from your trip and an extensive alumni network of people all over the globe. One day when you need insights into a location or maybe even a couch in NYC to crash on, you just might know someone in that network who can help you out.