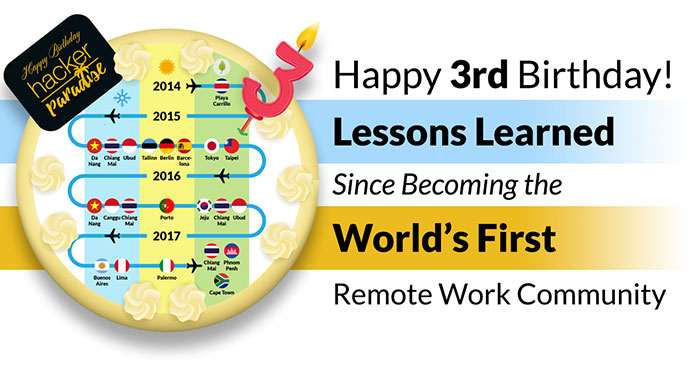 Pour yourself a glass of sparkling rose, delve into a slice of cake, and celebrate our 3-year birthday with us!
We've been traveling around the globe, discovering new cultures and making new connections for 3 years now, all while continuing to work. Remote working, telecommuting, being a digital nomad, whatever you want to call it: having a location independent job is a trend on the rise. Whether or not you've experienced the lifestyle, it's easy to see the appeal—working on the beach seems like a dream come true (note: working on the beach is, in actuality, a terrible idea).
Statistics from the U.S Department of Labor show increases of employees who reported working remotely from 19% in 2003 to 23% in 2015. According to 34% of business leaders surveyed at the Global Business Summit in London, over half of their workforce will be remote by 2020, with another 25% of business leaders saying the figure would be over three-quarters.
We started Hacker Paradise as the world's first international remote work and travel group with 27 people in Costa Rica in 2014 and we've had 483 people join the Hacker Paradise community. It's been a crazy and wild ride but we're going to boil it down to 10 lessons we've learned over the past several years.
1. Being Away from the Office Can Increase Productivity and Job Satisfaction
I don't know about you, but quite a few of us here tend to be much more productive when we've got computers in laps and feet up on coffee tables. A concern a lot of people have about remote working is that they'll be too distracted by how close the beach is or that a relaxed atypical office environment will inhibit their ability to work.
But working with the many people who have joined us on Hacker Paradise trips has shown us that everyone works differently. We put a lot of effort into collaborating with co-working spaces that have versatile and inspiring layouts and aesthetics. So if you want to work seated on the couch, no problem! If you want to work out on the balcony in a hanging chair (here's looking at our upcoming trip in Bali), you absolutely can. There are desks, nooks, conference rooms, and, most importantly, high-speed internet.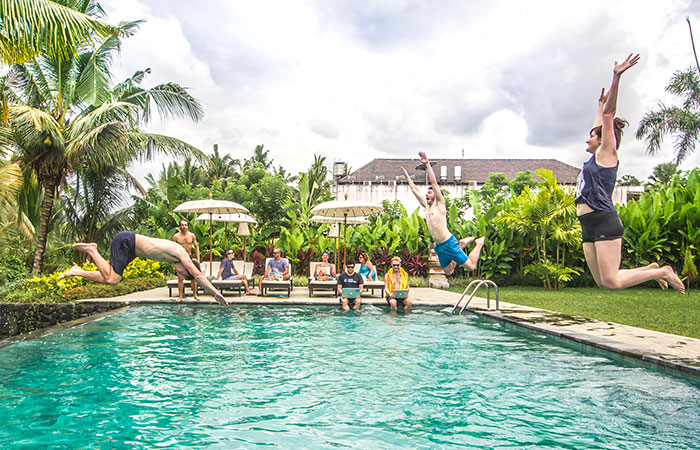 "This is no hyperbole: Hacker Paradise has been one of the most productive and enjoyable experiences of my life." — Sibjeet Mahapatra, HP alumni
For many people, getting away from a regular office environment helps them be more productive because many of the distractions that come with it are removed. In the office, you have colleagues stopping by your cubicle and there are generally more meetings than are really necessary. Whereas, when you work abroad, communication has to be optimized to fit everyone's schedule and time differences between locations can give you time to pound through a few hours of work before people back home have even reached the office.
"The business case consisted of increased productivity, increased commitment and team bond, increased happiness and increased skills of our team." — Weinke Giezeman, HP alumni
Or you could just bring the whole team with you! That's what Weinke and Johan did on our Hacker Paradise Porto trip. In his article about their experience, Weinke talks about how the trip had the added bonus of strengthening team bonds over karaoke nights, as well as boosting everyone's moral.
There's even research by the Harvard Business Review showing that people working from home (or remotely) completed 13.5% more calls than their in-office counterparts. It's nice to have some stats to back up our experiences: namely, getting away from the office is a great way to increase productivity. Just wait till you realize all the extra time you will have now that you don't have to commute to the office!
"I got a ton of work done, including submitting exam materials for a certification I'd been putting off for a literal year" — Lianna Patch, HP alumni
2. Our Inclusive Community Starts with our Screening Process
I'm going to brag a bit here; the Hacker Paradise community is made up of a ton of incredible and inspiring individuals. Our community is truly our most valuable asset.
"It is very inspiring to be part of a community of open-minded people, who are willing to share their knowledge and hearts with you." — Niels de Hoog, HP alumni
Hacker Paradise a great fit for people who are eager to experience new cultures through travel and are passionate about what they do, whether that is their careers or personal projects.
To help keep the culture of our community, we have an application process that everyone goes through where we talk about your work, goals, and ambitions. This ambition comes in all shapes and sizes, from a great idea for a best-selling novel or TV series to filling market gaps with brilliant new apps. There are no right or wrong answers—if you are passionate about what you do, we are too!
"I think the screening process is very welcome, especially the way it's set up. The resulting positive vibe of participants was definitely part of the charm of Hacker Paradise." — Matej Jan, HP alumni
Some people we interview just want to go on a holiday without working, and we let them know that our program isn't a good fit for them. We go to a lot of effort to create an environment where people can be productive while also having fun.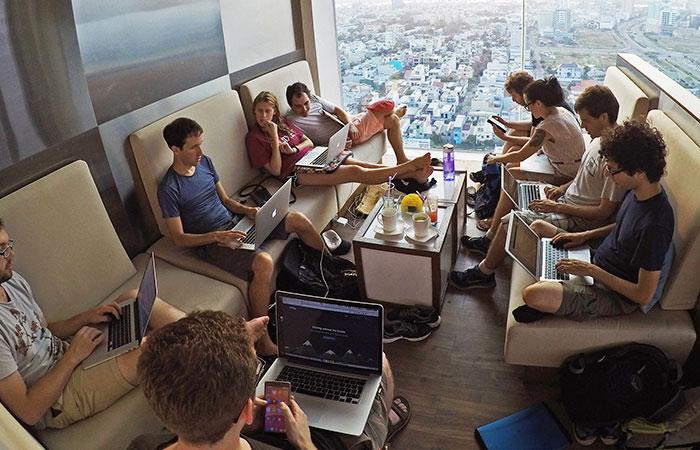 Creating a safe space and an inclusive community is of utmost importance to us and the foundation to setting up that culture is established through the screening process. During our interviews, we look for signs that you are an all around great person to live with, work with, and hang out with. Think you are going to bond with me by starting off with a sexist joke? No way, man. I will end the interview right there and tell you that you are not accepted into our program.
"Hacker Paradise is my family away from home. I always meet amazing people who constantly inspire me because of the cool things they're working on." — Jenn Vargas, HP alumni
Once on a trip, we make sure everyone adheres to our code of conduct to make sure everyone feels included into our community. The facilitators are around all the time so you can pull us aside to talk to us about any situations you're uncomfortable with and we'll help you resolve it.
"The first day I met Dale and Spencer I immediately felt included in the HP community and they have a unique ability to connect with everyone." — Whitney Perkins, HP alumni
Many of our Hacker Paradise alumni come back on trips with us again and again. On any given trip, approximately 30% of the participants are returning alumni. This helps us keep our Hacker Paradise culture intact while still adding new people to the community.
3. Remote Work is Not Just for Freelancers and Entrepreneurs
Many people think remote work is only for freelancers or business owners. I'm here to tell you this is definitely not the case.
Around half of our participants are employed full time at their companies. Some of them were remote to begin with and some of them pitched it to their teams.
Ellen, a data scientist at Soundcloud, pitched the idea to her team and got permission to join us in Porto. After showing that she could be successful working remotely, she was given approval to participate in future trips. In fact, she's already joined us for three more trips including Buenos Aires, Palermo and Cape Town.
"I had been dreaming of doing remote work for a long time, but I did not work in a company that considered itself remote-friendly. So I used my first trip with Hacker Paradise to test the waters and prove it could work." —Ellen König, HP alumni
If you want to pitch remote working to your boss, it's best to go in with a plan. We've even got a handy little guide on doing just that here
A presentation on the benefits to both you and your employer can give reassurance that you're not just looking to have a good time on company money. Think about how you're going to fulfill the duties within your role: can you hold meetings over Skype? How will you handle time differences? Are there new process to put in place or apps to use? If you go in with a plan, you're on better footing to show your team how this can work.
We have a ton of options as far as length of stay is concerned. Some people test the waters with a short 2-week trip to see how they go; and others dive in head first, staying for months on end. Some people we even have to force to go home once a year so their families know they are alive.
Keith is another great example of convincing your team that you can be successful remotely. As a manger, he had some concerns about effectively leading his team while abroad. He joined us in Buenos Aires after pitching his plan to his team that included using new tools and more structure around touch bases with team members. The trial was a success and Keith has continued to work remotely with us throughout the year in Lima, Palermo, and Cape Town.
"Communication and productivity were huge in making the trial run successful. Showing daily progress on work and staying in touch with teammates ultimately made it successful and helped with continuing on with Hacker Paradise in the future." — Keith Williams, HP alumni
Remote working is fast on the rise but sometimes you need a helping hand to get started. We're available to help you figure out how to make it a reality.
"I always had the dream of traveling and working, but between idea and realisation there's this gap. Hacker Paradise closed that gap for me." — Renato de Leão, HP alumni
4. Unexpected s*** happens: better to go through it together than alone
We've definitely got a few stories to tell when it comes to weathering storms. You don't get to travel the world a few times over without a few (sometimes hilarious) misadventures. But when you're a part of a community like ours, you quickly see that situations that might seem harrowing on your own are actually not such a big deal with a little planning and the support of an entire community.
"Because I was with a well-experienced and intelligent group of travelers and facilitators , I always felt prepared for new situations which I don't think would have always been the case if I were to travel alone or with another program." — Khayeni Sanders, HP alumni
Forces of nature are always fun ones to recount. In October 2016, we learned from our local partners that a typhoon was coming towards us on an island off the Korean peninsula. If you're not used to the building shaking winds and massive rains a typhoon can produce, it can be quite a nerve-wracking experience. Instead of panicking, we made a plan of attack. We stocked up on food and water and then spent the night playing Cards Against Humanity: the UK Edition in the basement of our hotel. What could have been a stressful night instead became a night full of fond memories.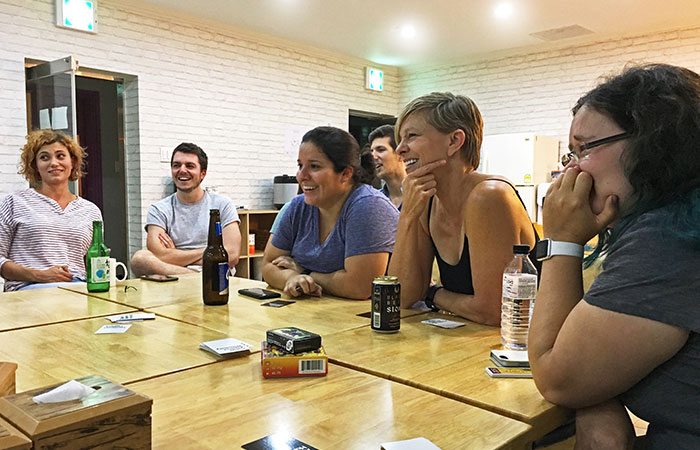 "There's nothing Dale and Spencer can't handle, I say. Whether it's a typhoon in South Korea or floods in Peru. True story" — Gabi Ciudin, HP alumni
Because we make advance arrangements with our co-working partners and housing partners, we've got a lot of local contacts we can rely on to advise us on how to behave in certain cultural situations.
While we were in Thailand, our local housing partners instructed us on how to be respectful during the period of mourning when the beloved king passed away. They helped us understand the significance of the Yi Peng and Loi Krathong festivals and helped us prepare banana leaf boats and sky lanterns so we could participate in the event.
We do a lot of preparation to keep things running smoothly, but, no matter where you are in the world, the unexpected happens. Our Hacker Paradise community gives you the support you need to get through it.
"Although the king's death was not expected, it was an interesting glimpse in the Thai culture and it did not by any means affect the dynamics of the fantastic community Hacker Paradise put together." — Gabi Ciudin, HP alumni
Traveling abroad, you might run into instances where you are in an uncomfortable or potentially unsafe situation. Being able to rely on a group of 30 other individuals in the area to help you out at a moment's notice can be key to your peace of mind.
"The HP Palermo trip was not just a community of travelers, it became a group of trusted family members. One vivid example is the night several HP friends came to my rescue as I was about to exit a terrible 9 hour boat trip where I felt unsafe." — Dana Turner, HP alumni
Interested in the more trivial or unexpected encounters we've had on the road? Dale, our resident illustrator, has been capturing these awkward moments in doodles he's uploaded here to his Instagram account over the last year. Warning: you might spent hours laughing at these.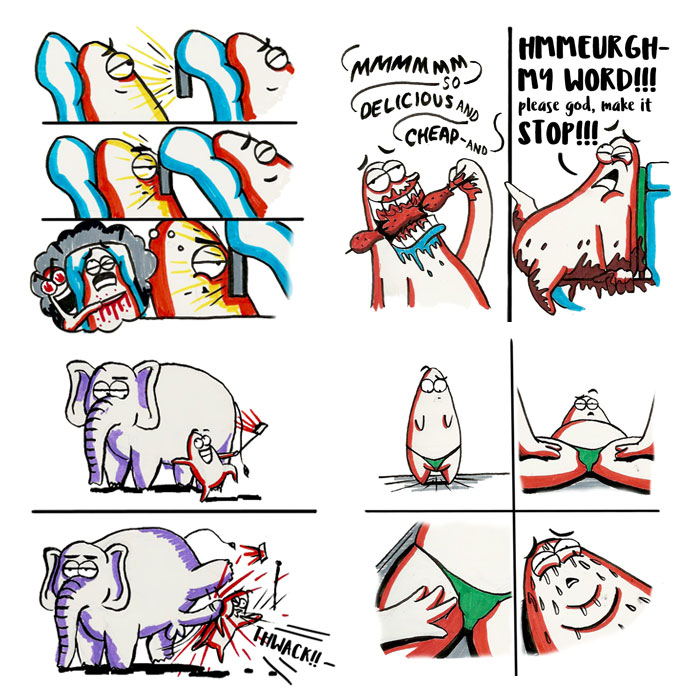 5. Remote Workers are More Diverse than You Think
"Not only is there a diversity in gender but also in age and in career paths. Usually Hacker implies developer but in reality there are people from a number of different jobs here." — Lori Tillery, HP alumni
Being able to work from anywhere was long considered to only be accessible if you were a 20-something techie from San Francisco. This is definitely not the case anymore.
While we do still have a lot of people from the tech industry, more and more of us are from industries not traditionally seen as remote working. Lots of people are finding ways to productively continue their careers and businesses while exploring the world.
"The flexibility in structure attracts people from very diverse backgrounds." — Khayeni Sanders, HP alumni
We have a huge range of professionals join our Hacker Paradise community, including engineers, designers, entrepreneurs, data analysts, illustrators, writers, videographers, project managers, investors, academics, U.N. employees, doctors, and it doesn't stop there.
The range of industries available means that you get to make great contacts within your own industry and learn more about industries you might be hoping to break into. Everyone is a professional in their field and are willing to jump in and share their knowledge.
"The people at Hacker Paradise are inspiring; they're brilliant, motivated professionals who work hard and play hard." — Monica J. Quaintance, HP alumni
Think you're from an industry that it is impossible to work remotely from? We have people who always thought the same but are now making it work running nursing staffing agencies and real estate agencies from afar. They've forged ahead in their areas of expertise and come up with strategies that allow them to work anywhere in the world.
"I told my lender that I was overseas, but he ignored me and that caused problems when closing day came along. So I came up with solutions. One of which led me to finding out more about private lending to avoid lenders who don't communicate" — Micki, HP alumni
The diversity doesn't end with industry. To date, we've had 483 people from 51 different countries travel with us!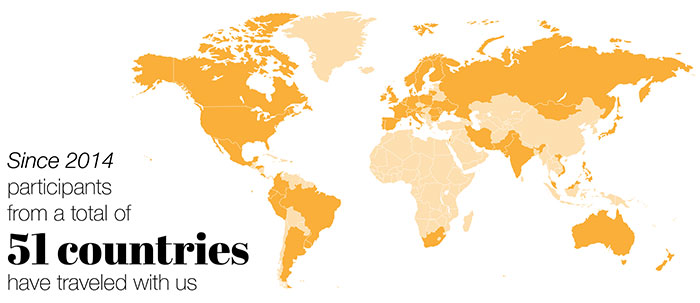 Some might expect that because we have a lot of participants from the tech industry that there aren't many women on the program, but we're proud to say that 40% of our alumni are women. We care about diversity and gender balance in our team and that naturally extends to our community.
6. Everyone Has Something to Share
"This program is ideal for people who are striving to pursue success in their career, and the facilitators do a fantastic job at coordinating and executing both educational and social events." — Whitney Perkins, HP alumni
Our community has a wealth of natural skills and talents that they freely share with each other through weekly talks and workshops—all free for Hacker Paradise members.
"The Crypto Party by Marie was my favorite. Online security is a very important topic that doesn't get enough attention." — Asad Zulfahri, HP alumni
We've had people teach technical skills, such as coding in React and writing great copy, cultural exchanges, such as learning to read and write Korean and dancing salsa, and even recreational workshops, such as baking tiramisu and mediation sessions. Our community's willingness to openly share knowledge and skills with others is an extremely valuable perk of the program.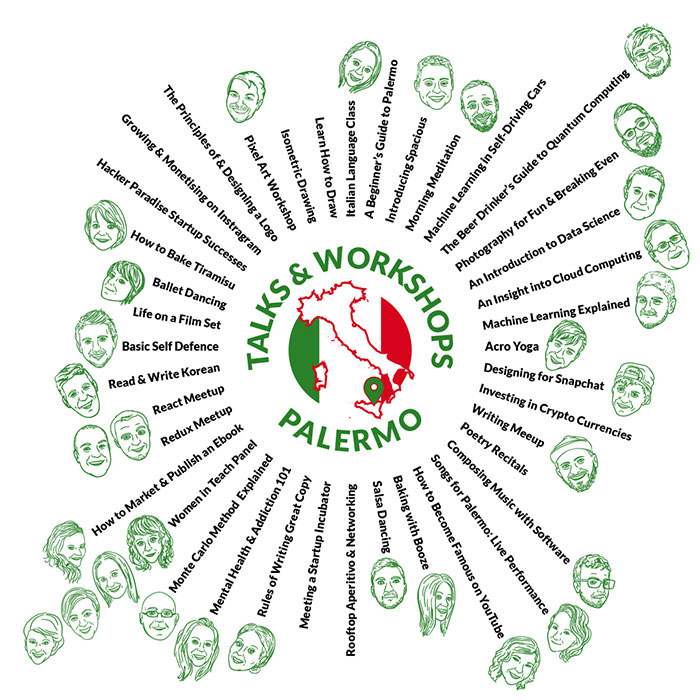 Workshops are often repeated by returning alumni, so if you're new and see one you wish you could have taken, you still have the chance! Likewise, our community continues to grow, and new faces (drawn by Dale of course) bring additional skill shares to our trips.
"It was incredible being surrounded by amazing people, share unforgettable experiences with them, learning fun things like surf or tango, things that I didn't realize that I'd enjoy." — Julio López Montalvo, HP alumni
We've even invited guest speakers including Leo Widrich, co-founder of buffer; Tavvi Kotka, CIO of Estonia; Matz, creator of the Ruby programming language; and many other knowledgeable people. It was absolutely incredible to be able to chat with and gain first-hand insights from these expert entrepreneurs.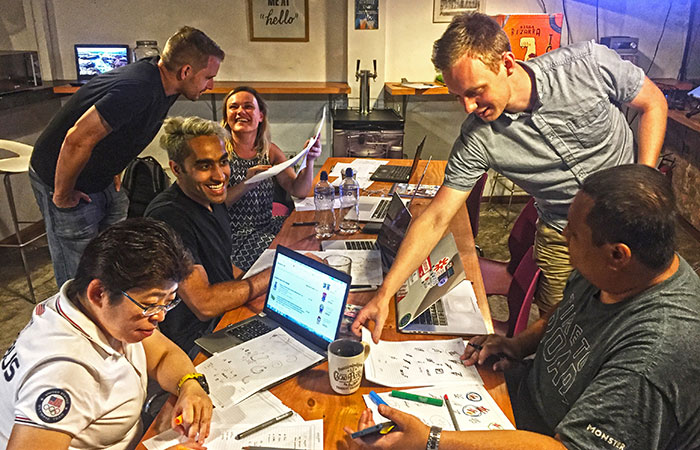 As well as an abundance of skill share workshops, we've also got weekly activities you can check out such as weekly lunches and potlucks, goal-setting sessions, and opportunities to ask the community for their help on anything you need help with—professional or personal.
7. Picking Passionate Facilitators is Key
The common thread through all of the Hacker Paradise facilitators is our passion for building strong communities. Whether it be from the aspect of befriending anybody and everybody—see Dani; founding co-working spaces for budding entrepreneurs—see Renata; sharing creative skills and having profound conversations—see Dale; or cracking a perfectly-timed joke to have everyone in stitches—see Spencer, we are dedicated to creating a tight-knit community that is open, caring and a comfortable place for everyone.
Each one of us brings unique qualities that further the community professionally and socially. And it's almost like we facilitators represent a subset of the kinds of people we tend to find at Hacker Paradise:
"Dale is a graphic designer, Renata is an entrepreneur, Dani is tech and I'm the weird one." — Spencer Jentzsch, HP Facilitator
We are there for the community around the clock, taking care of wi-fi and accommodations, organizing once-in-a-lifetime activities as well as professional development skill shares. You will see us everyday—we are just as much part of the community as you are. in fact, many of us started off as attendees ourselves. Both Dale and Dani were participants in Porto 2016 and Palermo 2017 respectively before starting as facilitators.
A lot of people back home still don't really understand what it is that we're doing out here. Try to ask my family to explain my job to you. You will get some pretty hilarious and not-at-all-correct responses.
"Sometimes family think that what I do is more like a travel agent than a community facilitator." — Renata Aquino, HP facilitator
We get a lot of amazing opportunities to show our support to the local community as well. We've taken part in local events, like in Santiago where Dale ran in a marathon dressed as Wonder Woman to help raise money to help the victims of mudslides in Peru.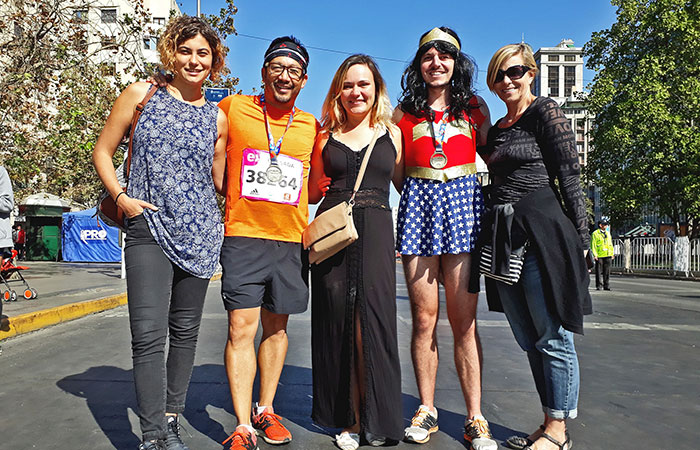 In Buenos Aires, we participated in the Women's March with the local chapter to show our support.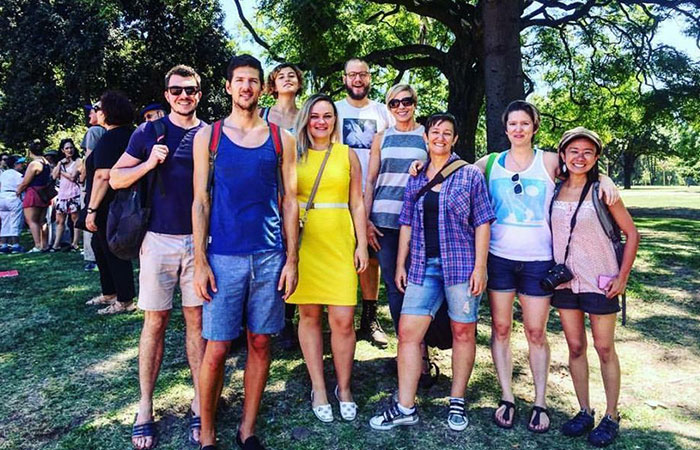 We love what we do because we love building an inclusive community on the road. That community starts when you first apply and continues well after your trip thanks to our Hacker Paradise alumni network that connects you to all the previous Hacker Paradise members and invites you to Hacker Paradise meetups around the world.
8. You'll Need to Balance Community Events with Personal Time
"Spencer and Dale are dream-team facilitators, we hiked a damn volcano, I was covered in monkeys multiple times, come on now y'all, this s#[email protected] was amazing." — Lianna Patch, HP alumni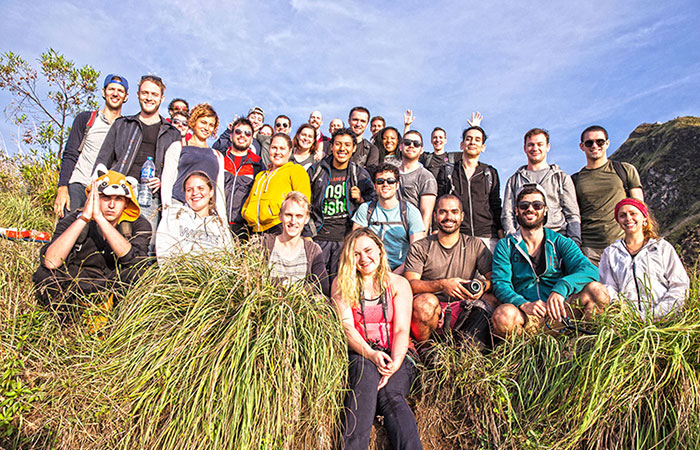 There are so many group activities, organized by us and the attendees themselves, that you will not be bored. In fact, you'll find that there is no way for you to do them all so you'll have to pick the events you're most interested in.
"We encourage attendees to go to social events and participate in workshops because that's where we feel there is value in the program, but we respect that some people have to work different hours if they have a big deadline, so we don't push it." — Dale Johnson, HP facilitator
We're not a package tour where every minute of your day is planned without any time to yourself. As an individual who is part of a community, you have all the freedom you would have on a solo trip but also the added benefit of like-minded peers and full-time facilitators; you get connection combined with personal space.
"By working only when you are most effective, life is both more productive and more enjoyable. It's the perfect example of having your cake and eating it, too." — Timothy Ferriss, The 4-Hour Workweek
The world is waking up to the realization that not everyone is productive during the same hours of the day — Hooray! Some people are night owls, some people are early birds, and there are definitely some kind of other fowl that perch somewhere in-between.
Most of our co-working spaces are available for use 24 hours a day, and if they're not, we find other spaces such as cafes that are. You're free to optimize your time to fit your schedule and sleeping patterns.
9. Life Abroad is, in Many Ways, More Luxurious than Life at Home
"Long days at the stunning co-working locations are followed by evening adventures in various global hotspots– and after all of that, coming back to our private rooms in comfortable housing caps off a perfect, full day." — Lucy Arnold, HP alumni
Before we decide whether a location is suitable or not, there are some fundamental requirements that we look for. Any regions we consider to be too dangerous or have high level of harassment or discrimination are automatically ruled out.
In terms of co-working and co-living spaces, high-speed internet and versatile spaces are also a must. Another determining factor is how far the spaces are from the city. We make sure the locations are convenient for going to and from restaurants and activities. Why? Because if it's an hour out of town, you spend too much time on the road and not enough time experiencing everything the city has on offer.
We try to make sure places offer everything you need for a good work/life balance. With everything so close and a solid routine, it's easy to live the life you've dreamed of.
"Being able to wake up in the morning and go for a run on the beach is life changing." — Spencer Jentzsch, HP facilitator
Some of the local amenities even surpass your expectations. There's a company in Bali called GoJek which will deliver absolutely anything to you, not to mention the best tasting vegetarian and vegan food we've ever had. The air conditioning in Thailand is some of the best I've ever experienced, and thanks to the amazing laundry services there, our clothes were never cleaner. The extremely affordable massages are also not to be missed.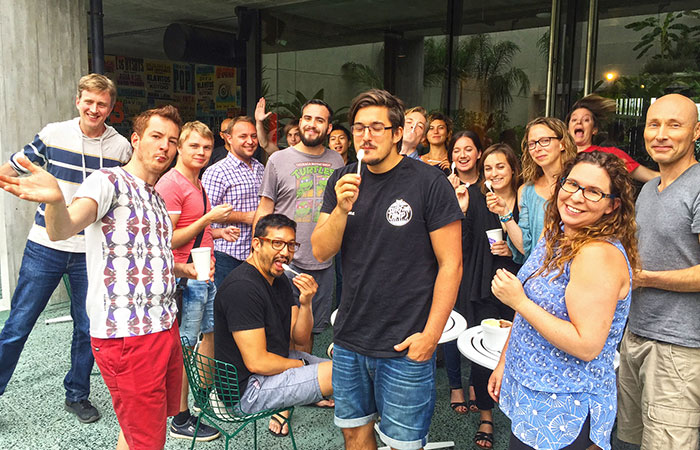 You begin to wonder why some of these services aren't available back home.
The fastest internet connection we've had was in Korea, and it was available everywhere. Uber is available in most places we've traveled, and if not, there are always alternatives. In Thailand, group taxis can carry groups of up to 12 people and make shuttling a big group like Hacker Paradise around so much easier.
Everything's provided for you at top quality, so you can keep a routine to be really happy and really productive.
10. The World Will be There When You Get Back
Everyone's reasons for coming on one of our trips are different. Some people are looking to learn new skills, some people want to find like-minded people to connect with and some people want to take time to work on a personal project.
One of our attendees was a doctor who took a sabbatical and traveled with us to work on his sci-fi novel. Others are transitioning between jobs and want to talk to other professionals about what they can do to excel in their new profession.
The important thing to remember is that home will always be waiting for you, and the skills and experiences you gain from participating in our program stay with you for life. We also add you to our Hacker Paradise alumni network that connects you to all the previous Hacker Paradise members and invites you to Hacker Paradise meetups around the world.
You can take what you learn at Hacker Paradise and apply it to your life back at home—if that's where you choose to go. We've had alumni find that once they're back home, they miss the Hacker Paradise community so much that they buy a ticket straight back to join us!
I mean, how could you say no to all these friendly faces? Hopefully you'll be added to the doodle before our 4th birthday!