Viva la vida en Medellin & Florianopolis
February 7 - March 20, 2021
We can't stay away from Medellín, its friendly people, perfect weather, or delicious food so we're coming back!
Take a cable car through mountains enshrouded in mist. Stroll the tree-lined streets. Explore artistic hillside neighborhoods.
Everybody raves about Medellín. When are you going to experience it for yourself?
Work. Eat açai. Go on an adventure. Repeat.
We will be living our best lives by hiking, surfing, waterfalling, boating, sunning, beaching, and all-out-adventuring our way through the best island in Brazil.
There's a reason we have this on our schedule every year. This is not a trip to miss.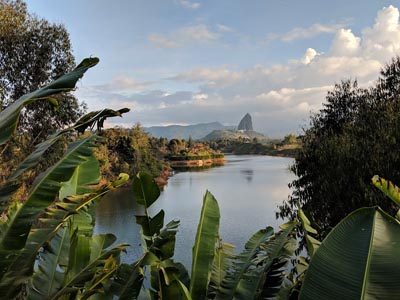 Discover Guatapé, the place that you've seen in every must-see travel guide. Soak in the hike views before going down to jet ski in the lakes below. You can even paintball at Pablo Escobar's old mansion to fulfill all your Narco's fantasies.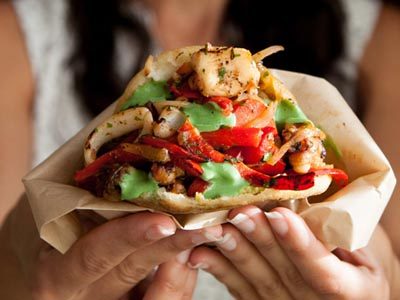 Forget tacos and tapas. Arepas stuffed with anything you want, pastries stuffed with cheese and tropical fruits, the best lentil burrito you've ever had in your life at our favorite vegetarian spot, and sooooo many ways to eat plantains.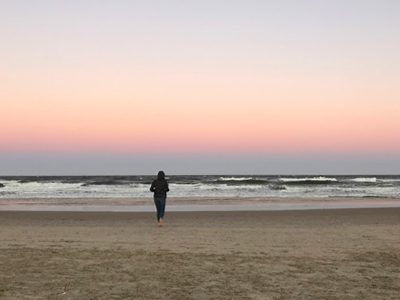 Between sprawling beaches in the city and remote paradisiacal beaches we can travel to like party central Punta del Este or the hippie natural reserve of Cabo Polonio, you might just get sick of beautiful beaches. Daily sunset watching required.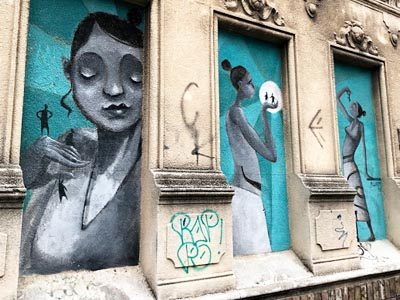 Each neighborhood has a different outdoor market with food, antiques, and nostalgic treasures for you to discover. Street art crops up where you least expect it and the majestic architecture is bound to keep you snapping photos.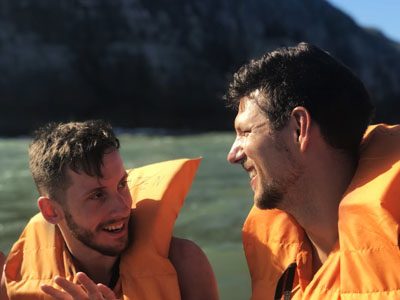 The best days are spent on boats with friends. You could take weeks to drive to the 100+ beaches in Florianópolis or you can sail to a bunch of them all in one day. Visit places you can't get to by car, get on an SUP, and have the time of your life.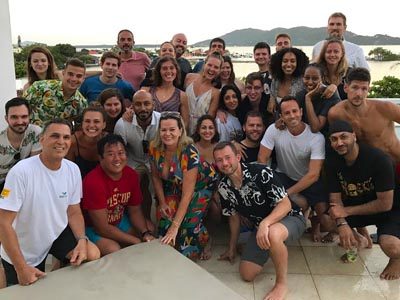 Whether you're on the beach or at a bar, you'll find yourself naturally making friends with those around you. Between all the events we hold with our coworking space, you'll meet enough people you'll want to come back to visit in Brazil later.
Local Sim filled with data
2 Kickass onsite facilitators
weekly lunches and potlucks
Networking events with locals
Worldwide network of 700+ members
goal setting & reciprocity rings
Book any itinerary and save $400 on your first month
Medellin, Colombia
$3,285 $2,885
Florianopolis, Brazil
$3,585
WORK REMOTELY.
LIVE YOUR BUCKET LIST.
MEET YOUR PEOPLE.
Apply now to become a member of our premier remote work and travel community.
Enter your details, pick a time to chat with our team, and get ready to work hard and travel harder with the best community out there.
Save money and time by booking a pre-planned itinerary or book one or more of our upcoming 2021 trips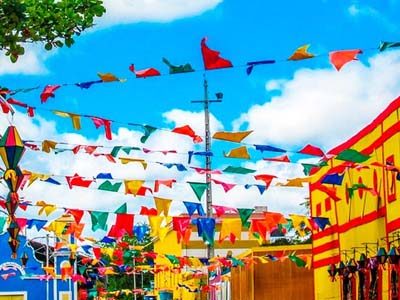 February 7 - May 29, 2021
Medellin | Florianopolis | Curacao
$400 OFF YOUR FIRST MONTH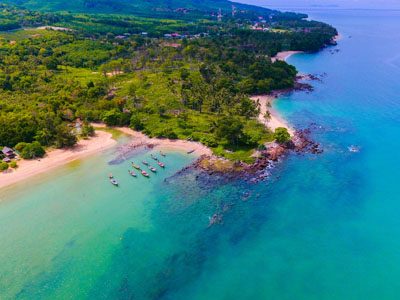 Bali | Ho Chi Minh | Koh Phangan
$400 off your first month
Moneyback Guarantee for the HP Community
We're so confident in our community that we're offering a money back guarantee on it.
The decision to request money back must be taken between the end of the first and second week after being an active member in our community. This is to give enough time to see if the program and community meet the expectations. The participant needs to actively attend events (at least 3 events per week). Qualifying official HP Events are
Monday Lunch

Goals Setting Sessions

Skills Sharing Sessions

Potluck
To set in motion, you need to both verbalize to the facilitators in charge and via email to [email protected] how and why we didn't meet your expectations.
After following the steps above, we will calculate and refund your money. We will process back 1200 USD for a 4 week period, 2400 USD if you signed up for an 8 week period. You will be expected to leave the housing after the end of the initial two week period. You will receive a full refund for the trips that are more than 8 weeks into your initial start date.
This guarantee applies to dissatisfaction with the HP community on trip and other factors such as housing or weather will not be taken into consideration. 
Fill in your details and you'll receive our packing checklist in your inbox.
experience
life differently
We send monthly newsletters with the latest trip announcements, discounts, and stories from the road.
Sign up to stay in touch. No spam, ever. We promise.