November 19 - December 16, 2023
Where white-gold beaches meet an old merchants' hub, featuring candy-colored architecture, artsy cafés, spicy street food and a poppin' bar scene.
Optional Trip Start Dates
Join the fun for 2 weeks up to the full length of the trip starting on any of the following dates
This ain't your average Thailand
Phuket may be best known as the gateway to some of the most picturesque paradises in the entire world — from Phi Phi to Maya Bay — but lesser known, is its own identity as a cultural mecca; gritty, colorful and historic. 
Chinese Taoist shrines hazy with incense, handsome Sino-Portuguese buildings, hipster cafés, live music and a bar scene that brings the neighborhood together — Phuket is full of life and tradition. And that's without even mentioning Phuket's own gorgeous beaches that are just a short drive away from the town centre.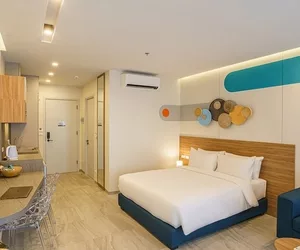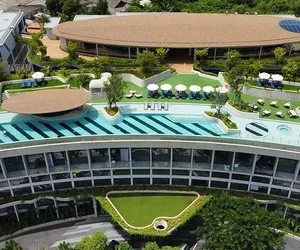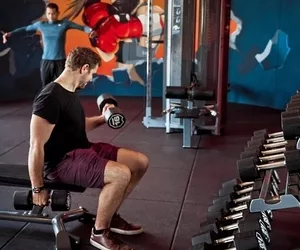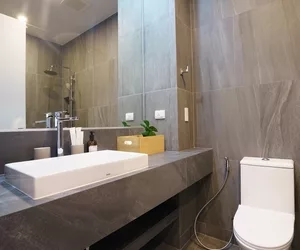 We're feeling pretty damn lucky to be staying at one of Phuket's most luxurious (and sustainable) coliving establishments, Homa. Offering sleek modern design, our serviced studio apartments are as beautiful as they are functional, each featuring a kitchenette, balcony, couch and TV.
Enjoy daily breakfast (included), yoga classes at the onsite fitness centre, or catch the mesmerizing sunset from the rooftop infinity pool — the longest (and most dramatic) in Phuket.
Work it while you werk it
Our coworking space, thoughtfully designed with cool graffiti murals, comfortable chairs and brainstorm beanbags, is within the same complex as our posh accommodations. It has super fast and reliable internet, an open floor plan, meeting rooms and individual pods for focussed work-sprints. 
It's everything you need to be productive in paradise, 24/7.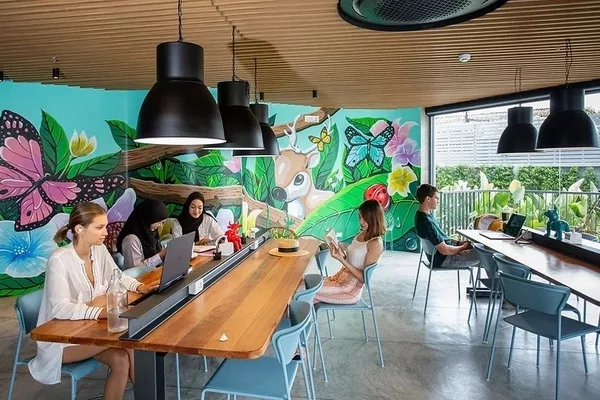 Just a few reasons you'll fall for this destination​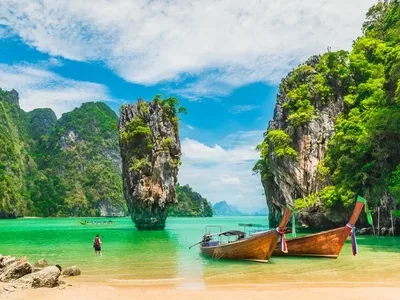 Sheer limestone columns, soaring vertically out of the jade-colored water below — you will definitely recognize the wonder that is Phang Nga Bay. In fact, it was one of the locations for the 007 movie "The Man with the Golden Gun". Cruise the waters by boat, stepping off at hidden beaches along the way, for an experience you won't find anywhere else in the world.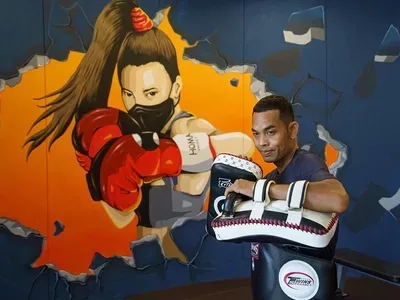 Nicknamed the 'art of eight limbs', as fighters are encouraged to use their elbows, knees, shins and hands, Muay Thai is the preferred way to get your blood pumping in Phuket. In fact, people travel here from around the world to train in the the birthplace of this distinctive form of martial arts. It's quite a workout and one we'll lean on after all the delicious Thai food we plan to devour.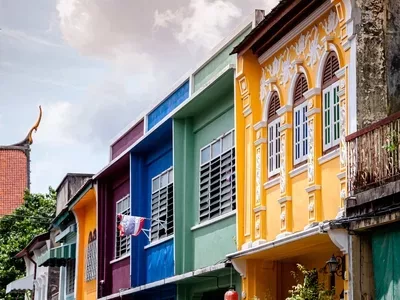 Right in the heart of the Old Town, just off Thalang, a short, romantic street called Soi Romanee, showcases some of the historic centre's most beautiful Sino-Portuguese buildings. What were once brothels and opium dens, are now charming, colorful spaces for cute cafés and boutique hotels. Try to spend some time there at night, when Chinese lanterns light the street with a soft red glow.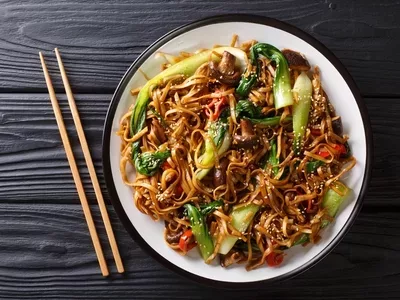 Thai food, in its most authentic form — it's what dreams are made of. Known around the world as one of the most flavorful cuisines, enjoying it directly from the source is just a whole different experience. It's super good value too! And if you get hooked on the bold, aromatic flavors of tom kha gai or pad thai, attend a Thai cooking class so you can take a piece of Thailand home with you and recreate these delicious dishes at home.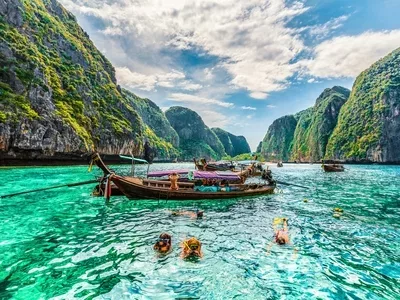 While the glittering, turquoise water surrounding the island of Phuket is extraordinarily beautiful, don't miss out on the beauty that lies just under the surface. Take a weekend snorkeling trip to Koh Phi Phi, the Surin or Similan Islands to experience a rainbow of marine life that glows, sways and swirls in the currents of the ocean.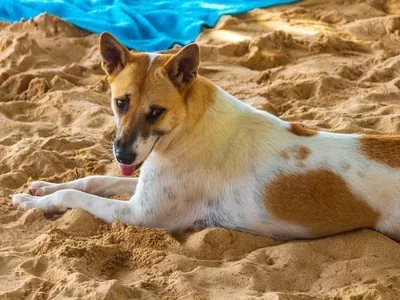 Attention animal lovers. Phuket has a lot of strays, so if you're looking to get in on some furry cuddles, while doing a good deed, we say sign up for a day volunteering at the local shelter. Check out Soi Dog on Maikhao beach. It's a large operation known for being well-run and transparent. It's the perfect way to spend a day giving back to the community.
1-2 KICKASS Community FACILITATORS
Skill shares & reciprocity rings
WORLDWIDE NETWORK OF 1,000+ MEMBERS
*All pricing in USD | 1 month = 4 weeks| Enquire about our Program-Only pricing!
Want shorter? Want longer?
We're super flexible. You can travel with us for the amount of time that fits your schedule. Apply now and let us help you customize your travel plans!
Our troubleshooting, rose-drinking, karaoke-singing, and all-round kick-ass superhero facilitators are destined to become your new BFFs.
WORK REMOTELY.
LIVE YOUR BUCKET LIST.
MEET YOUR PEOPLE.
Apply now to become a member of our premier remote work and travel community.
Enter your details, then pick a time to chat with our Admissions Team over Zoom!