November 16 - November 27, 2024
From Buenos Aires, make your way to Ushuaia and board your ship to the White Continent, home to leopard seals, humpback whales, and penguins!
From Buenos Aires, make your way to Ushuaia and board your ship to the White Continent, home to leopard seals, humpback whales, and penguins!
All aboard to the 7th Continent, home to leopard seals, humpback whales, and penguins!
Optional Trip Start Dates
Join the fun for 2 weeks up to the full length of the trip starting on any of the following dates
Discover the seventh continent aboard the Ultramarine vessel and get ready for an experience like no other!
Set sail to the edge of the world with Hacker Paradise's Antarctic adventure! In collaboration with Quark Expeditions, this awe-inspiring week-long journey to the white wilderness of Antarctica offers a break from your digital life to where nature reigns supreme.
What makes this trip so great? (Aside from the obvious) All gear is provided or can be rented – no need to pack additional bulky gear to join this expedition! Upon embarking, receive a warm welcome from the seasoned Quark Expedition Team along with a snug Quark Expeditions parka, then rent your waterproof expedition boots!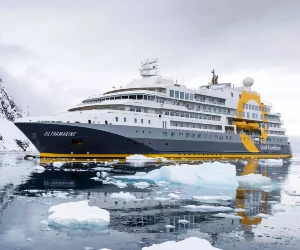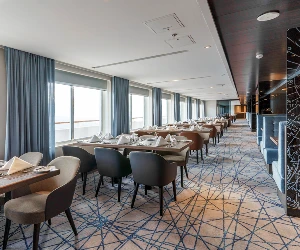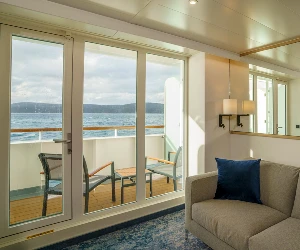 A ship with two twin-engine helicopters, restaurants and wildlife viewing points!
Each double occupancy suite (twin or double set up) on this Ultramarine ship is a cozy 285 sq. ft. (26.5 m2). Your comfy nook aboard features a sitting area, a desk for jotting down thoughts, and a picture window to gaze into the serene icy expanses. The private bathroom with heated floors ensures a warm start to your chilly mornings.
Onboard, culinary delights await. From buffet breakfasts and lunches to plated dinners, every meal is a chance to mingle and munch. And with soft drinks, juices, beer, and wine included, toasting to new friendships is always on the menu.
This is the 12-day adventure of a lifetime
On day 1, we get on a charter flight from Buenos Aires to Ushuaia, where we get comfortable for the night at a local hotel before boarding the Ultramarine ship on day 2. We set sail, crossing the Drake Passage and onwards to the South Shetland Islands and the Antarctic Peninsula on days 3-9. The whole time, you and the Hacker Paradise crew take excursions from the ship to explore bays, penguin rookeries, and snowy vantage points. On days 9-12, we make our way back through the Drake Passage, dock in Ushuaia and land in Buenos Aires once more, forever changed by what we just experienced.
Click here to learn more about our Antarctic itinerary.
Just a few reasons you'll fall for this destination​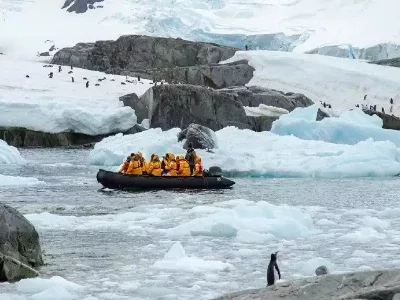 Navigate the untouched corners of Antarctica aboard Zodiacs, the sturdy inflatable vessels on our ship designed for expeditionary ventures. Disembark on isolated, pristine sites where the adventure unfolds on cobble and ice-strewn beaches, revealing the polar realm's raw beauty.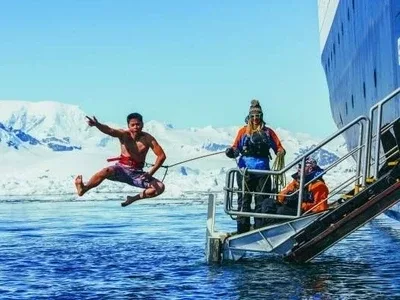 Embrace the chill in an exhilarating Polar Plunge event, a tradition that's awaited with bated breath. Whether leaping from the Zodiac or the gangway, feel the rush as you take a dip into the icy waters, cheered on by your fellow nomads and the Expedition Team.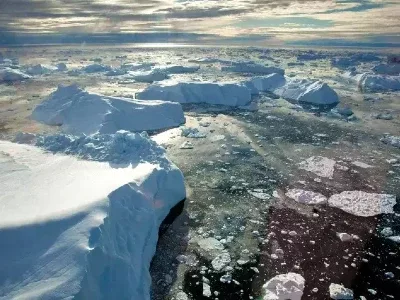 Soar over the icy expanses in twin-engine helicopters stationed on the Ultramarine, offering a bird's eye view of the surreal polar landscapes. Your 10- to 15-minute flightseeing excursion, included in the voyage cost, promises an unforgettable aerial adventure.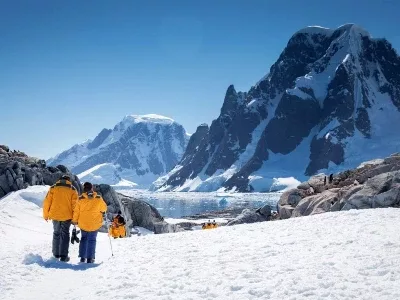 Traverse the unique polar landscapes where every step on the spongy tundra or crusty snow is a scene from a frozen paradise. In the absence of trees, you're the towering figure against a backdrop of endless ice, with nature's silence as your companion.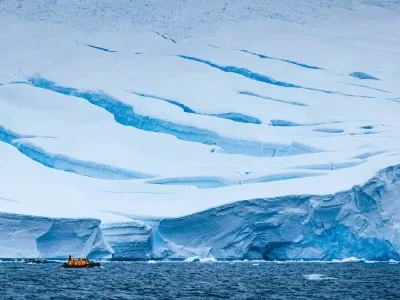 Cierva Cove's Icy Spectacle
Immerse in the chilling allure of Cierva Cove, a haven of colossal icebergs and glacial calving. As seals laze on ice floes and humpback whales make a seasonal appearance, the icy waters unveil a frigid, fascinating world that very few have seen before.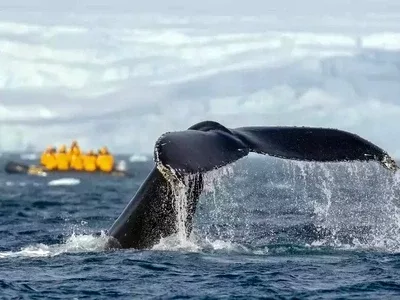 Historic Damoy Point and Whaler's Enterprise Island
Step into history at Damoy Point, the site of a bygone ice runway, and explore Enterprise Island's whaling remnants. While Damoy offers a peek into Antarctica's aviation past and a penguin rookery, Enterprise Island's Zodiac cruise takes you past a sunken whaler's ship, with chances to spot humpback whales amidst the echoes of a whaling era gone by.
Click here to learn more about what's included.
Experienced Expedition Team & 1 KICKASS Community FACILITATOR
Zodiac Boat expeditions & 1 Flightseeing Helicopter ride
Group flight: Buenos Aires-Ushuaia
Photographic Journal of Expedition
All meals, snacks, & beverages | Select Wine & Beer at dinner | 24/7 coffee & Tea
Expedition Boots (loan), Parka & Limited Edition HP Antarctica Gear!
Double Room w/Daily Housekeeping
Emergency Evacuation insurance
*All pricing in USD | Pricing is per person for double occupancy of 1 suite  | Prices are raising January 1, 2024. Book before prices increase! 
We're super flexible. Enquire about our single occupancy options and pricing. Apply now and let us help you customize your travel plans!
WORK REMOTELY.
LIVE YOUR BUCKET LIST.
MEET YOUR PEOPLE.
Apply now to become a member of our premier remote work and travel community.
Enter your details, then pick a time to chat with our Admissions Team over Zoom!