Around this time five years ago, two friends were "tray tables up", on their way to Costa Rica. Startup life had taken its toll and they were after a change of scenery and pace. The idea was to deplane and meet a crew of friends, and friends of friends, at a low-capacity hotel for a getaway of sorts, while still working on their respective professional projects. It was a novel plan, and they didn't know it then, but they were about to pave the way for a new professional lifestyle that would affect hundreds of people; the first remote work & travel program.
Today, more and more people are coming around to the idea of location-independence; to the concept of creating a lifestyle that benefits our careers, but is not dictated by them; to the symbiotic relationship between work and travel. While these people and the movement of "digital nomadism" is gaining momentum, there are still those out there (read 'dads'), who have yet to wrap their heads around it. So let's break it down quickly.
Why Remote Work is a Thing
By 2025, Millennials will comprise three-quarters of the global workforce – that's a whole lot of smashed avo toast right there. This means we are currently mid-swing of a generational shift; one that essentially comes down to values and what Millenials want to gain from their careers. Many millennial-minded workers are becoming disenchanted with traditional office perks and incentives, and are laying the pressure on employers to provide more lifestyle-friendly work environments. Enter, remote-work opportunities.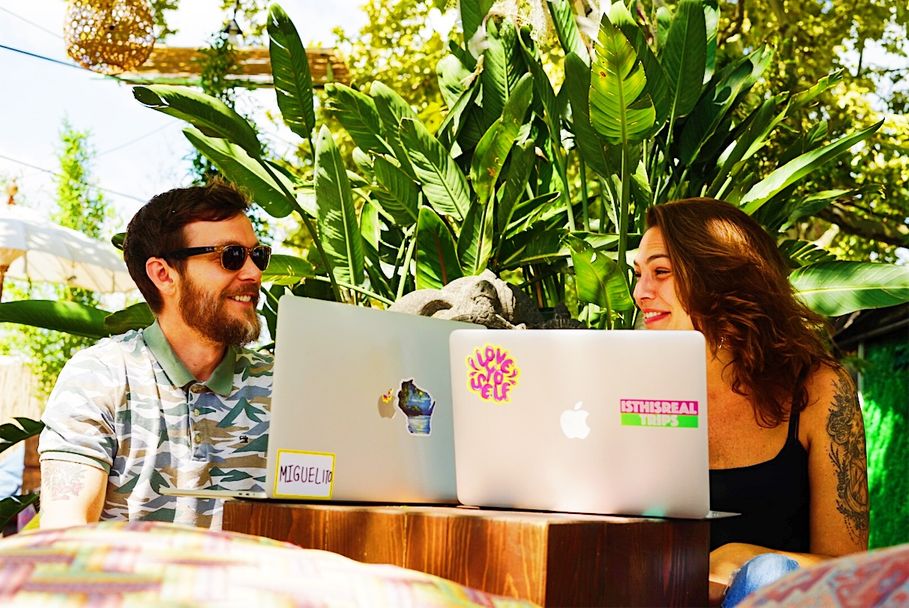 The remote-work industry is booming, with more and more employees saying 'peace' to their office environments, and opting to either work from home, cafes or co-working spaces. It's a sizable chunk of the current workforce and only getting bigger. Millenials – 1. The man – 0.
401k vs. Nah.
What else do Millenials value? Travel. Millennials want to experience the world, it's bold cultures, and the crazy sh*t that happens while abroad. Now, this is where we come in. Hacker Paradise offers trips to remote-working professionals that prioritize their careers, but also have a burning desire to see what's out there. We do the planning — inclusive of accommodations, co-working space access 2 facilitators and daily activities — so that participants can put their time where it counts: into their work and exploring with the rest of our badass community. It's the perfect marriage of work and travel.
Travel Family Matters
So, back to our story. Hacker Paradise, the first-ever work-travel program, was born around five years ago, founded on one important principle. And it's this particular principle that has set us apart time and time again. Relationships. It's cheesy AF, but it can't be overstated: we would be very little without the incredible community of people who have made Hacker Paradise what it is today. So, as we celebrate our milestone this year, we raise our glasses to the two friends who took a chance on a wacky idea, as well as to the 800+ friends that became the Hacker Paradise family along the way. This one's for you.
Want to be a part of this remote working crew? APPLY today and get the ball rolling on what could be the path that changes your life.