Remote work is nothing new. In fact, the trend of being creative with the limits around one's workday has gained steady momentum for decades. Globalization, increased mobility, Millennial culture, new behaviors shaped by innovative technologies — these were all contributors to the consistent rise of the 'Remote Revolution'. And then very suddenly, COVID-19 happened, and the gradual momentum of the remote movement spiked, leaving you balancing your laptop on a cushion, dressed only from the waist up. Yes, it's a confusing time with a steep learning curve, and you may be feeling a sense of distrust and/or a lack of motivation. But as you sit down to your first week or month of working from home, you should know that the benefits of remote work have been observed and proven for some time now, and we're going to help you realise them with the right tools!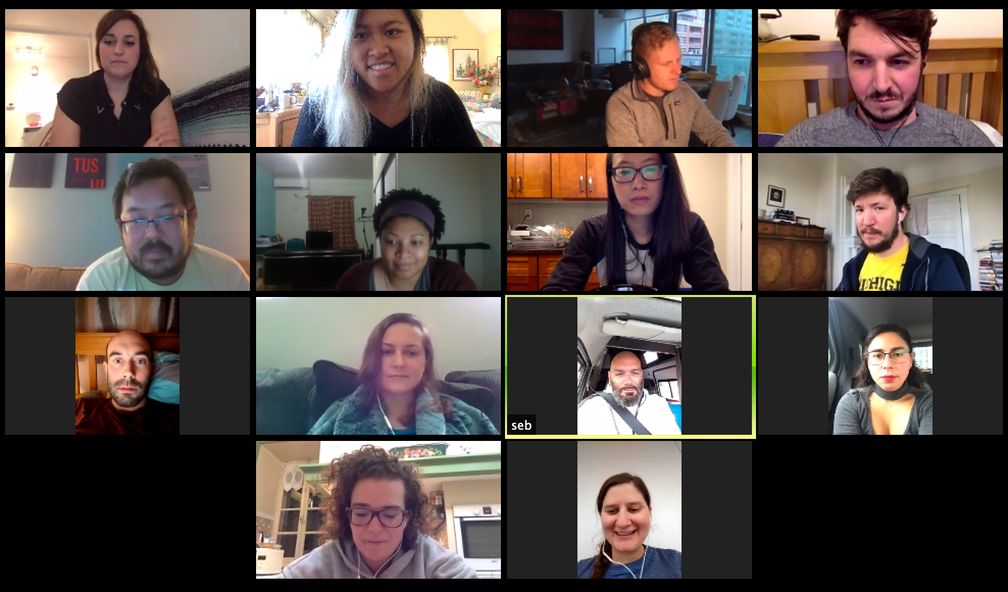 It's true: working remotely not only enhances engagement, productivity and commitment from happier employees that are likely to stick around longer, but it also lowers costs for employers. This win-win dynamic, when implemented meaningfully, has the potential to push a company to the next level. Conversely, when implemented with a lack of direction and training, employees can be left feeling lost and inefficient. Basically what we're saying is that remote work is effective, but it has to be put into practice correctly.
As long-time remote work advocates, we at Hacker Paradise want to use our experience to support you by sharing some very cool tools that will ease your transition into working remotely. This 'kit' will allow you to share, communicate, collaborate, teach, learn, and find information in many new exciting ways. Let's go!
Communication
It's definitely one of the most popular communication tools out there and also Hacker Paradise favorite! It is basically a 'chat' platform that your whole company can use while working from home. It's designed to replace email as a primary method of communication and allows you to organize communications by channels (#namefothechannel). It lets you combine text, audio, and video into one convenient package. Some examples of channels we use and love are #random (to throw out ideas) #good_things_inspiration (to motivate the team with good news) and #daily_standup (to keep the team on track).
You'll quickly find that working remotely requires a whole lot of video conferencing. Microsoft Teams is a tool that can be used internally by the company to host, audio, video, and web conferences for up to 10 000 people. It also allows you to schedule deadlines or bookings, take notes, screen-share, upload files and instant message. One of the best things about Microsoft Teams is its compatibility with Office 365 and the ergonomic experience that it provides to the user.
Often considered as the most reliable and clear for large group video calls and we do agree so far at Hacker Paradise. Indeed, it's our number 1 team meeting tool. Are you ready to have fun with the "background" feature?
Probably, the easiest video meeting tool available on the web. Create a room, share the link and talk online. Nice quality video, ergonomic, easy useful features. We use this one for smaller team meetings at Hacker Paradise!
Productivity
Based on the famous Pomodoro technique, the app lets you adjust the lengths of your focus periods and break sessions, with the timer switching automatically from focus to break time. In other words everything you'd expect from a simple Pomodoro timer! (If you haven't heard about the Pomodoro technique, take some time to familiarize yourself — it's a fantastic model to use when working from home.)
This is a smart to-do list, or an easy project management tool. Things like due dates, priority levels, and comments can be added to each task and it also offers an assignment feature so that employees working from home can stay on top of action items that they are responsible for. Todolist keeps it simple and on track!
Project Management
At Hacker Paradise, we find this one particularly user-friendly and visually pleasing. This team management tool enables coworkers to quickly add members, assign tasks, customize workflows, and track the progress of a project.
Asana is considered to be a bit more complex than the average project management apps, but with more features, it may be exactly what you're looking for.
Trello is a collaboration tool that supports project organization into boards. This tool lets you know what's being worked on, who's working on what, and where something is in a process. 
ProofHub is an easy-to-use project management and team collaboration software. It lets you plan your projects, manage your tasks and teams, track progress, and get more done, together. 
Time Management
This employee time-tracking software helps you and your remote team maintain transparency and get a lot more done each day.
‍Focus
Working remotely, but make it zen. Noizio is the mac version of Noisli, both giving access to ambient background noises like a campfire or October rain. All sounds can be mixed and adjusted to optimise your environment for focussed work.
The main function of this app is to declutter your screen. By allowing you to view only one window at a time on your device, Hocus Focus helps to keep your eyes on what is important and not the 20 other apps and windows open in the background!
Working from home doesn't have to mean you're constantly distracted. Freedom is an app and website blocker that becomes pretty useful when you want to avoid social media and hone in on the project at hand.
Collaboration
This cloud-based collaboration tool is essentially a digital whiteboard. At Hacker Paradise we love using it to enhance creativity during team brainstorming sessions!
Like Miro, but for one-off use. If you're needing quick access to a digital whiteboard that does not require a login or an archive, this one is for you.
Security
Dashlane securely stores and auto-fills passwords, personal information, and payment details. Also great for secure sharing!
A special Hacker Paradise shout-out to this freemium password manager that stores encrypted passwords online.
1Password remembers all your passwords to help to keep account information safe.
Email
This program gives your chosen email platform a bunch of additional functionalities, for example: email scheduling or auto-send when a person does not reply within a specific timeframe.
Email Studio is a suite of powerful tools for Gmail specifically. A nice little plus — it makes it so easy to unsubscribe from junk email!
Schedule Management
Calendly helps you find the perfect meeting time with super-easy online appointment scheduling software that integrates with your calendar. Coordinating remote meeting just got a whole lot easier.
Similar to Claendly, this app offers a quick and easy way to schedule meetings without the back and forth. The software also integrates with your calendar.
Storage
Pcloud offers secure cloud storage. Team members can store, share and access files from any device, from anywhere!
Drive is a free cloud-based storage service that enables users to store and access files online from anywhere. Most of the Google tools are very efficient and are easily integrated for a great ergonomy. This is a must for those working from home for the first time.
A fan fave. Dropbox lets your team upload files to the cloud for safe storage and easy sharing.
Some Closing Thoughts
It's important to mention here, that without the right mindset and some key fundamentals, the tools we just outlined won't really matter. Thanks to Social Exchange Theory, we have a lot of research to show that the more employees perceive a climate of trust, the more they engage in positive behavior to benefit their organization. Of course, if trust is a key success factor it is definitely not the only one. If you're wanting to know more about how to improve your team's remote experience, reach out to us about our tailored Remote Team Workshops!
There is a lot happening at the moment, and it can feel really overwhelming, but it's also important to acknowledge the great opportunities that may be in front of us. Various studies have shown that periods of crisis can be a fertile ground for implementing solutions to "resistance to change". Right now, the world accepts that change is inevitable, meaning that we are receptive and ready to welcome changes into our personal and professional lives. Let's use the urgency in the air to take our first steps, harness remote work and plant new seeds that may bring fruits in a brighter future.