"Stay home" — the slogan of 2020. For those of us with a curious spirit; a spirit shaped by the experience of travel and the connections we make with foreign places and people, this was an especially bitter pill to swallow. But given our responsibility as globally-minded citizens of a world facing a crisis, we had to prioritize the wellbeing of society and our local impact in each of the destinations we visit. Accepting the circumstances of a global pandemic was tough, but the decision was easy: Stay home. Not as easy, was the decision to travel again. When is the right time? How do we do it safely? Where do we go? And how do we get the most out of our adventure while still being responsible?
These were some of the pressing questions we asked ourselves as a team, before hosting a work-and-travel trip to Playa del Carmen, Mexico, in late 2020. What we may not have realized then, is that each team member was considering these questions for themselves; not just as an employee of a travel business, but as socially-conscious citizens of the world with their own Covid-related concerns and considerations. As program facilitator at Hacker Paradise, Marketa had a full plate. She was prepping to ensure a safe and enjoyable trip for those joining us in Mexico. As a human being embarking on an adventure during a precarious time, there was even more to consider. This is Marketa's experience.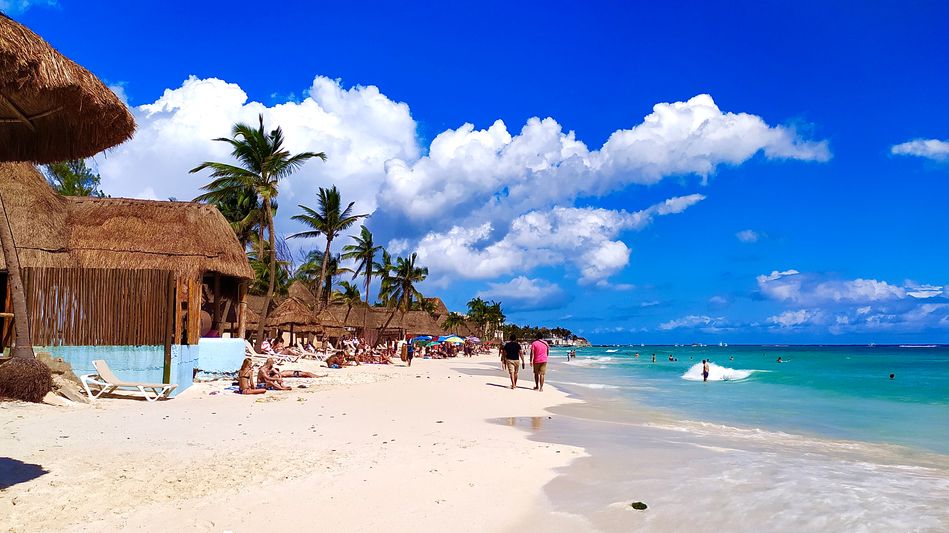 Staying Home
Nothing could have prepared me for 2020. That said, it wasn't all doom-and-gloom. As a Czech, I'd spent most of the year staying put in central Europe. I spent my time enjoying the countryside, doing outdoor activities and bonding with my closest family. Workwise, I was lucky enough to have had the opportunity to work on a couple of backburner projects with my colleagues, while patiently observing the situation from the lens of a professional traveller. Not much was going on, and the outlook on when the world would resume travel was – and still remains – uncertain. The unpredictability and "un-plan-ability" was crippling to me. Covid had affected me as someone that travels for a living, but even more so, as someone who builds my identity on travel experiences.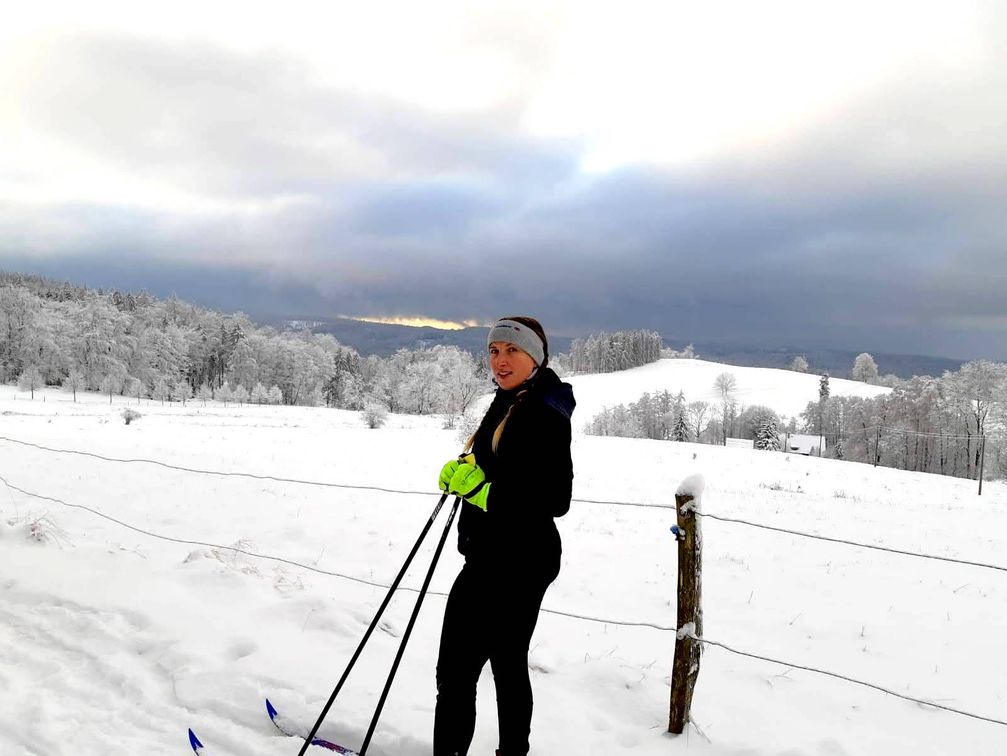 Dropping a Pandemic Pin
After months of tedious deliberation at Hacker Paradise, and thanks to a favourable situation in Mexico, we put together a small, intimate trip at the end of 2020. The final thing we needed to confirm it was the support of our community, comprised of both seasoned nomads and first-time remote workers — and boy, they didn't disappoint. While we could hardly call it "post-Covid", I felt ready to travel. I was confident about the safety measures that the Hacker Paradise team had agreed upon and put in place.
Needless to say, Covid put a different perspective on everything. All the things that used to be simple and dependable suddenly had a little asterisk with a small print footnote. Will I be able to book flights? Will they cancel my flights? Ok, so they've cancelled one leg of my trip, what now? Can I layover in a third country? Sure, pre-covid air travel was never exactly 100% dependable, but this was on another whole level.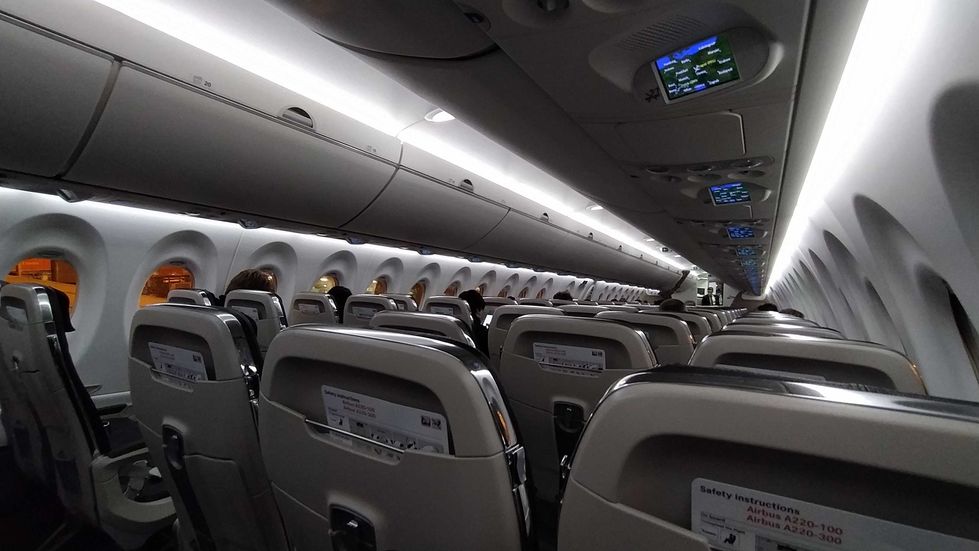 My personal life, before leaving for Mexico was another challenge. I realized that I suddenly had a lot more to consider than just my own health. If I got sick or had complications, I would put the whole trip, with some 20 participants, in jeopardy. On top of that, the situation in parts of Europe was worsening. This made the risk of new travel restrictions, stopping me from arriving in Mexico, a possibility to plan for. To avoid this, I flew to Mexico one week ahead of the trip. My team had also activated a few backup facilitators in case Sara (my co-facilitator and partner in crime) or I got stuck somewhere.
In the end, everything worked out. However, it was only when my toes were sand-covered, and I was sipping my first margarita under a large palm tree, that I finally let myself accept the reality: I had made it to Mexico.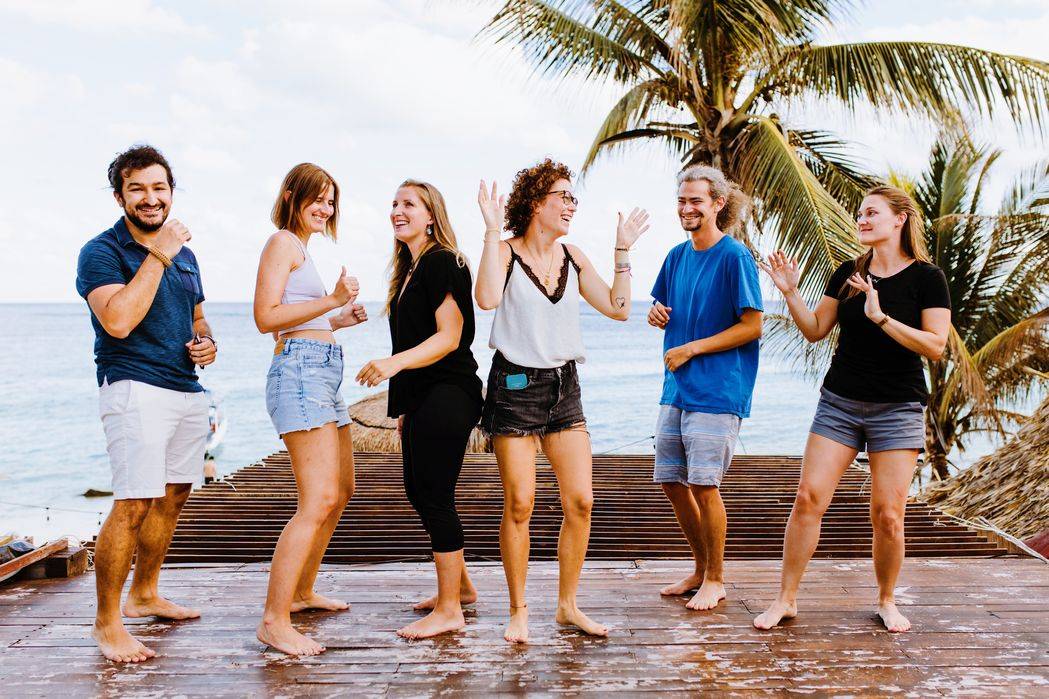 Mexico: Covid Travel Edition
I felt truly blessed to find myself in this tropical paradise especially during the travel-unfriendly time of Covid. We now had some extra time to plan and organize onsite before kicking the trip off.
Mexico was one of the few countries that didn't impose travel restrictions, nor did it require a mandatory Covid test or quarantine. Despite this, the last thing we wanted to do was promote careless travel or misuse the lack of restrictions. A lot of thought went into how to make the trip safe. We wanted to make sure that our participants felt supported and comfortable. Part of that meant communicating clearly with all participants, even before signing up, that this trip would inevitably be "special".
We decided to limit the group to 20 people, and stay in separate studios within close proximity to each other. I felt strongly about us each having our own space, while still being close to each other. Additionally, we decided that all of our gatherings be held in open-air locations. We also asked that everyone take a Covid test prior to the trip and covered half of the cost.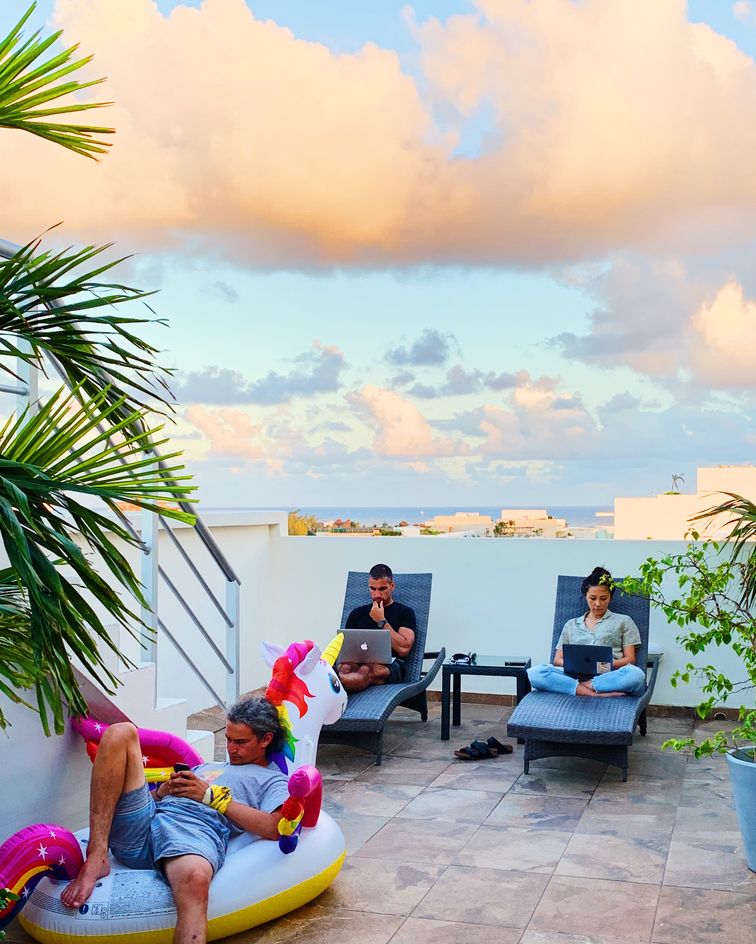 On top of the general precautions in Mexico — wearing masks, using hand sanitizer, limiting hugging(sigh!)/touching — we decided to host a community-led discussion on any other precautions that, as a group, we'd like to institute. We decided on what we'd feel safe doing, and what we should avoid, as a group and as individuals.
Right from the beginning Sara and I felt that we definitely didn't want to serve as "Covid police". After all, we are all responsible adults. We offered a safe space for suggestions and updates to our group rules. We also assured everyone that they could come to us if they felt unwell or had concerns throughout the trip.
"Normal"
It felt so "normal" in Playa del Carmen; a beautiful tropical paradise, where we could enjoy the beach and the company of fellow remote workers. After months of solitude, lockdowns, and screen fatigue, I felt a deep sense of purpose and gratitude, having real people around; a secure pod of like-minded members sharing experiences, lunches, deep discussions, workouts, side-trips or silent hours of focused work, side by side.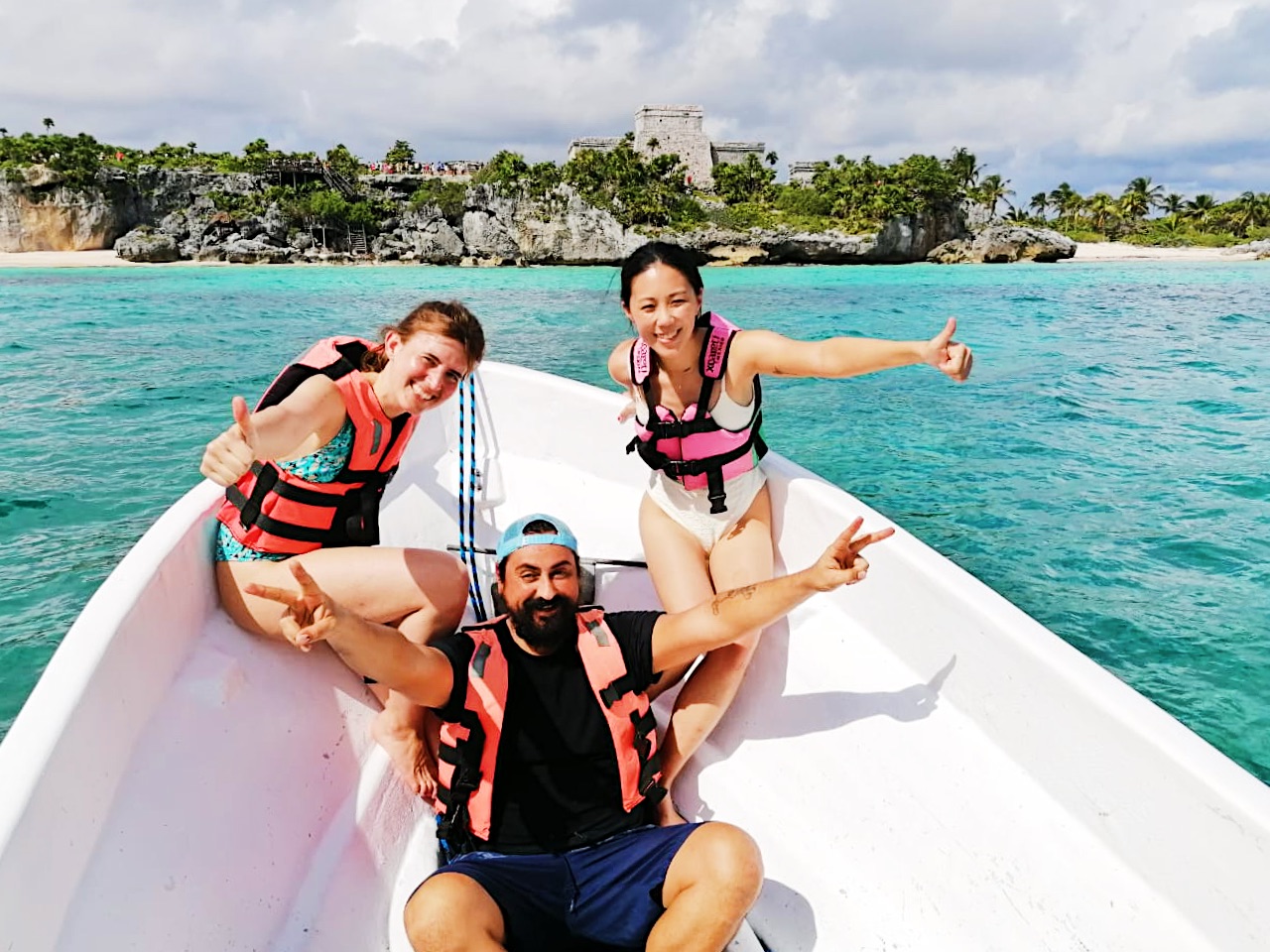 Given our efforts to be responsible and keep to ourselves, it would have been easy to forget what was going on in the world. But then came a couple of friendly "reality reminders" in the form of Covid paranoia. Symptoms that we would normally dismiss as minor cold or fatigue made us nervous. This just reinforced the need for semi-regular covid tests, just to be sure.
The circumstances meant we had to be flexible with the weekly program of events and activities. One change we made that stood out, was to one of our favourite events: potlucks no longer meant cooking for others and sharing food. We had great fun getting together despite this, putting on BYO rooftop dinners which often ended starlit, in the pool.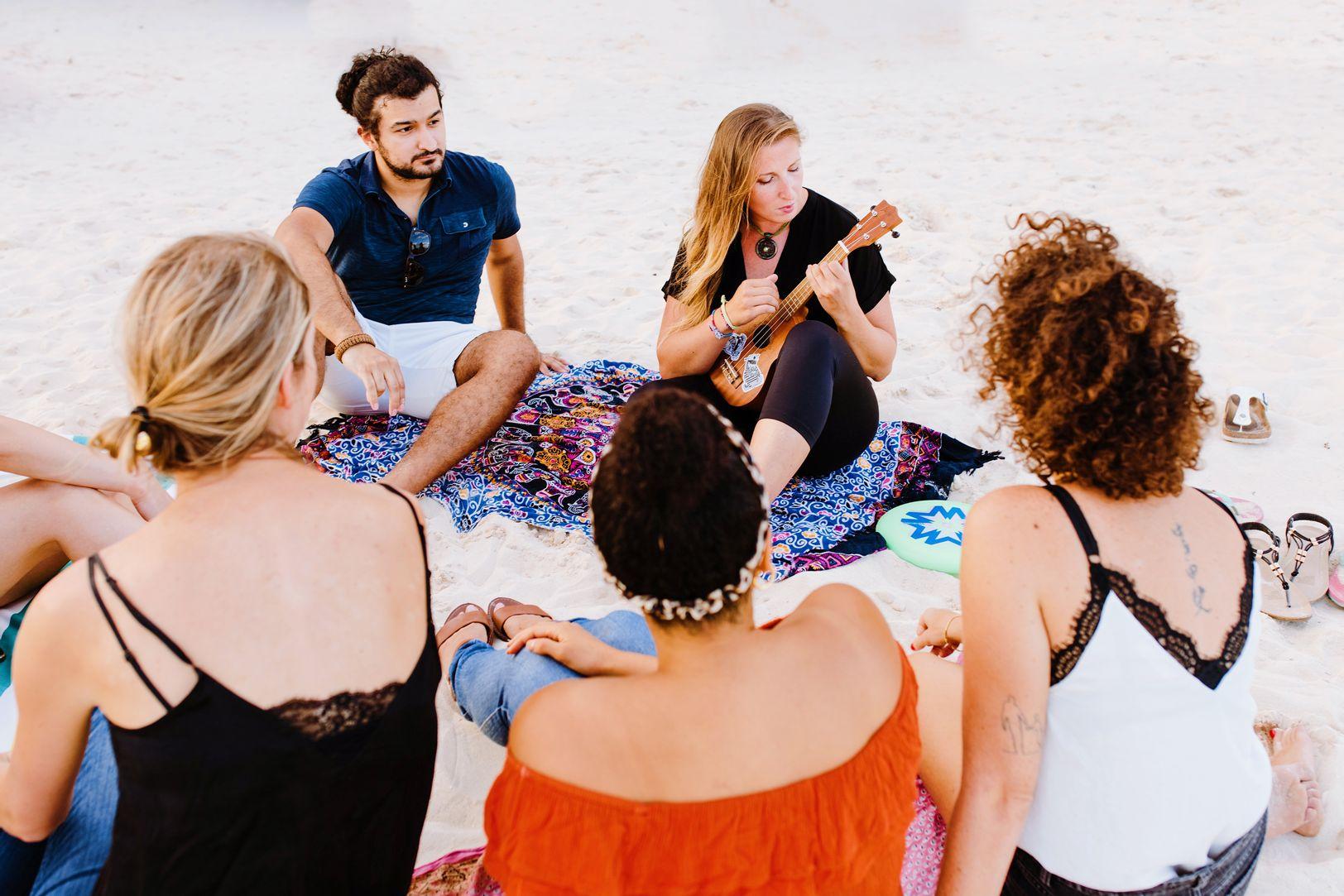 Another change, (and one we plan to keep) was putting more emphasis on hands-on workshops rather than theatre-style, on-screen presentations. Motivating people to think creatively and host workshops in open-air spaces resulted in some of the most amazing, interactive and practical events I've been part of. To name a few, we:
Developed a better understanding of how online dating works through a simple experiment.
Used movement to practise vulnerability.
Put pencil to paper and learned how to design a logo for our personal brands.
Did an amateur photoshoot by the pool with our beloved mascot (an inflatable unicorn, Sparkles).
Learned how to pack efficiently using the Marie Kondo technique.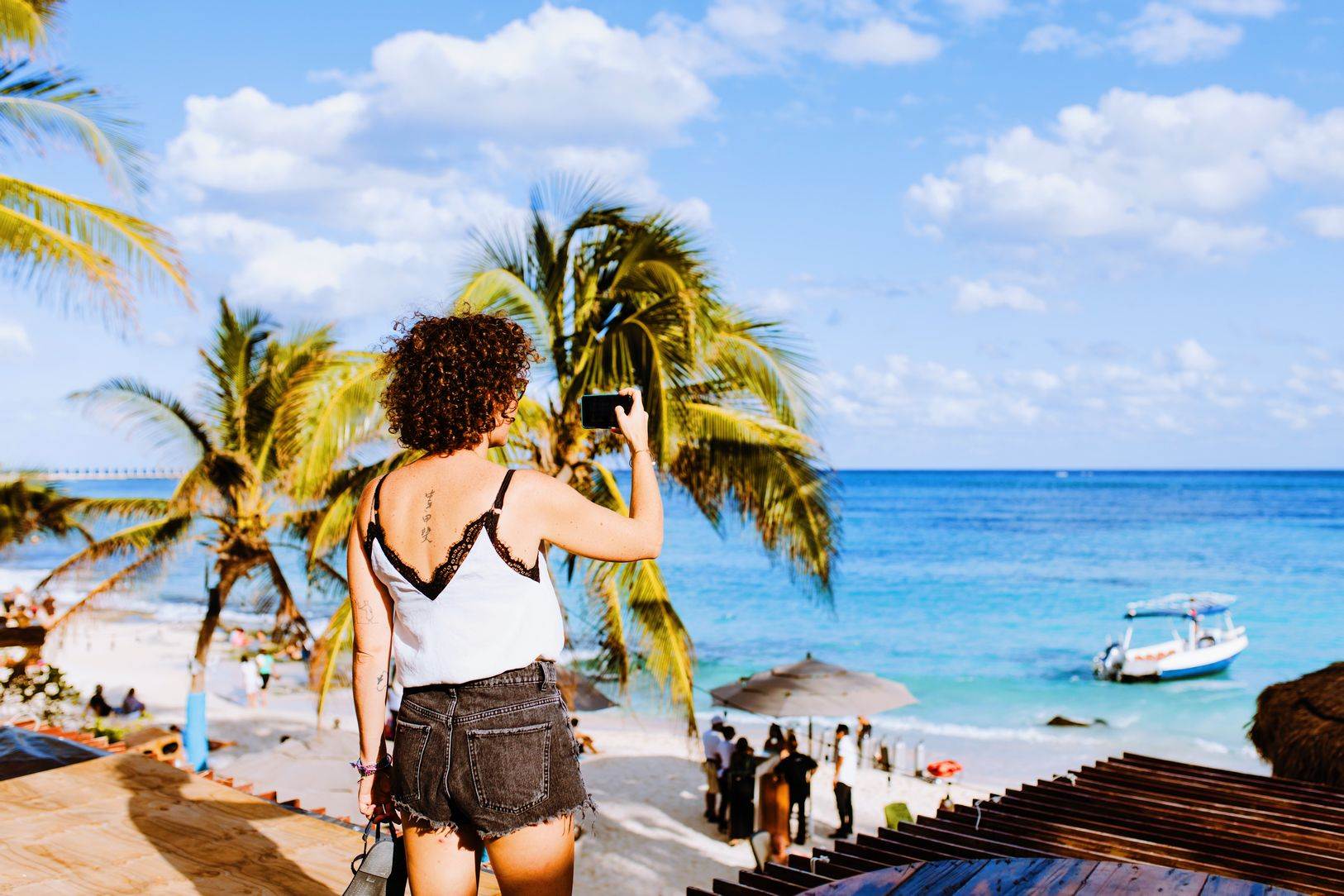 Covid Travel: Highlights and Takeaways
We always say that it's the people who "make" the trip, and it couldn't have been more true under the circumstances. These are a few points that made the trip so good (dare I say, one of the best?):
That community feeling and bond between participants was second to none. This trip really showed me the humanity in people, which was so beautiful and encouraging during a tough time. Everyone really banded together, showing respect, compassion and support for one another. It was the definition of "community".
While our community is used to working remotely from breathtaking environments (yet still very appreciative), this one hit different after a lengthy lockdown. When we first arrived in Playa, our inspiration tanks were most certainly running on empty, but that changed dramatically in a matter of days. A huge part of that was having the beach literally around the corner. I can't possibly count all the morning walks, night dips, sundowners, and sleepy tanning afternoons we had there.
We pivoted out of necessity and came up with something better. So, we no longer had access to conference rooms or a presentation setup — that didn't stop us from hosting dynamic workshops in open-air spaces, focusing more on hands-on, interactive experiences. I realized how much people appreciated that too when several of them messaged me privately thanking us for the valuable skills they gained.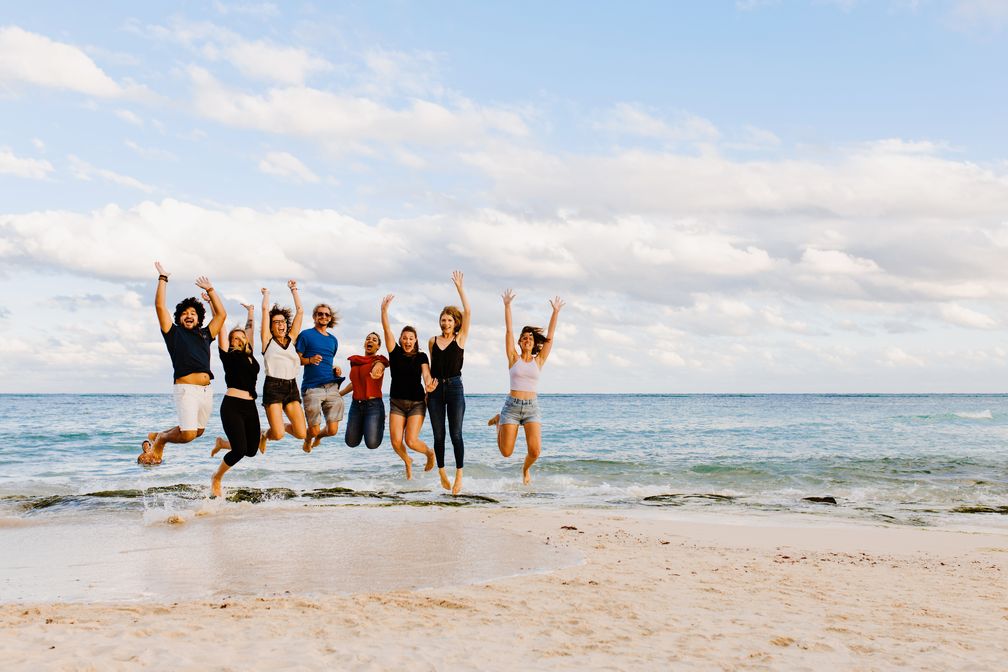 Lessons learned
Just before Covid was declared a global pandemic in early 2020, my travel plans had led me to Medellin, Colombia, to host a community of remote workers for Hacker Paradise. The trip was cut short at the end of March, and I was officially living through what topped my list of "worst crises experienced abroad". Between then and now, I can confidently say that I've grown in leaps and bounds. I've learnt how much strength I have; how to appreciate my own company; the benefits of a daily routine; the huge impact of doing little things; and the importance of mental hygiene.
Having just spent this special time with our Hacker Paradise community, during our first trip back on the scene, I've also developed a new sense of appreciation for the people in my life, as well as my own capabilities. It was on this trip, as a group, that we learned, adapted and found meaningful ways to experience the world under brand new conditions, and work remotely from Mexico.

If you'd like to check out where Hacker Paradise is headed next, check out our upcoming trip schedule for 2022 HERE!